Legendary Folk Guitarist Doc Watson Dies At 89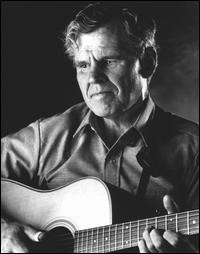 Grammy Award winning Folk legend Doc Watson passed away at the age of 89 on Tuesday.

The blind singer and guitarist passed away at the Wake Forest Baptist Medical Center in Winston-Salem, North Carolina, after complications from injuries sustained in a fall at his home in the state's Blue Ridge Mountains last week.

Watson was taken to a medical center near his Deep Gap, NC, home last Monday and then airlifted Wake Forest's intensive care unit on Thursday, where underwent surgery on his colon.

Despite being in critical condition for days and showing signs of improvement late last week, Watson succumbed to his injuries at 7:21pm on Tuesday, according to GoBlueRidge.net.

The bluegrass pioneer, born Arthel Lane Watson, is partially credited with taking the acoustic guitar from its origins as a rhythm instrument to being more of a lead instrument in bluegrass and country music during the 1950s and 60s. His flatpicking style also helped change the instrument's role in folk, blues and gospel music.

The seven-time Grammy winner was born in Deep Gap, North Carolina on March 3, 1923, and lived there for virtually his entire life.

He formed a successful trio, releasing 15 albums with his son Merle and bassist T. Michael Coleman; but the venture ended in 1985 when Merle was killed in a tractor accident.

Each year the town of Wilkesboro (NC) celebrates his memory with the annual MerleFest.

North Carolina Governor Bev Perdue released a statement on Tuesday; saying, "Over his long and brilliant career, Doc Watson traveled the world playing the music he loved, but his heart never strayed far from his home in Deep Gap, North Carolina. His peerless abilities garnered him countless awards, including North Carolina's highest civilian honor, the North Carolina Award, in 1986, and the North Carolina Heritage Award in 1994.

"Our state was fortunate to have such a worldwide ambassador of North Carolina's culture and heritage. He will be missed."