Legendary Film Critic Roger Ebert Dies Two Days After Announcing Return Of Cancer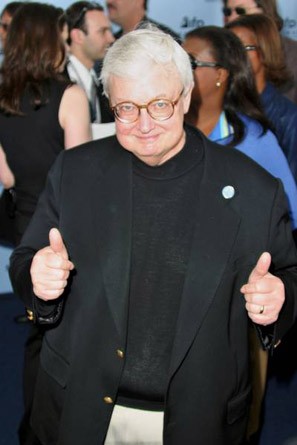 Famed movie critic Roger Ebert passed away on Thursday, just two days after posting on his blog that he was battling cancer again and would be cutting back on his work.

The Pulitzer Prize-winning critic, who spent over 45 years writing movie reviews for the Chicago Sun-Times, revealed that a December hip fracture that left him hospitalized wasn't that at all.

"The 'painful fracture' that made it difficult for me to walk has recently been revealed to be a cancer," he wrote. "It is being treated with radiation, which has made it impossible for me to attend as many movies as I used to... My intent is to continue to write selected reviews but to leave the rest to a talented team of writers handpicked and greatly admired by me...

Ebert also said that he planned to write about his health struggles as well, and that it "really stinks" that the cancer had returned.
He may have left a clue in his message, though, as he wrapped it up with what sounds more like a farewell than an 'I'll be back again soon.'

"So on this day of reflection I say again, thank you for going on this journey with me. I'll see you at the movies."
Ebert was diagnosed with thyroid cancer, which was eraticated; but the following year cancer was found in his salivary gland. Surgery on the gland altered his voice; and in 2006 doctors had to remove a section of his jawbone to remove cancerous tissue, which left him with the inability to speak, eat or drink. In 2008, Ebert underwent surgery that doctors hoped would restore his ability to talk, but complications arose and the attempt was unsuccessful. According to an interview with Esquire magazine in 2010, Ebert said he would refuse any further operations regardless of the severity of his condition, including if the cancer returned.

He also reflected on his life, knowing that it was just a matter of time.

"I believe that if, at the end of it all, according to our abilities, we have done something to make others a little happier, and something to make ourselves a little happier, that is about the best we can do," he told Esquire. "To make others less happy is a crime. To make ourselves unhappy is where all crime starts. We must try to contribute joy to the world. That is true no matter what our problems, our health, our circumstances. We must try. I didn't always know this, and am happy I lived long enough to find it out."

Ebert is most famous for the nearly three decades he spent reviewing films on TV. He co-hosted three shows with late Chicago Tribune writer Gene Siskel: "Sneak Previews," "At the Movies with Gene Siskel and Roger Ebert," and "Siskel and Ebert and The Movies," which popularized the "Thumbs Up" and "Thumbs Down" movie ratings system. Following Siskel's death in 1999 Ebert was joined by Chicago Sun-Times journalist Richard Roeper from 2000-2006 for "Ebert & Roeper & the Movies."

Roger Ebert was 70.