Legendary Blues Guitarist Johnny Winter Dies At 70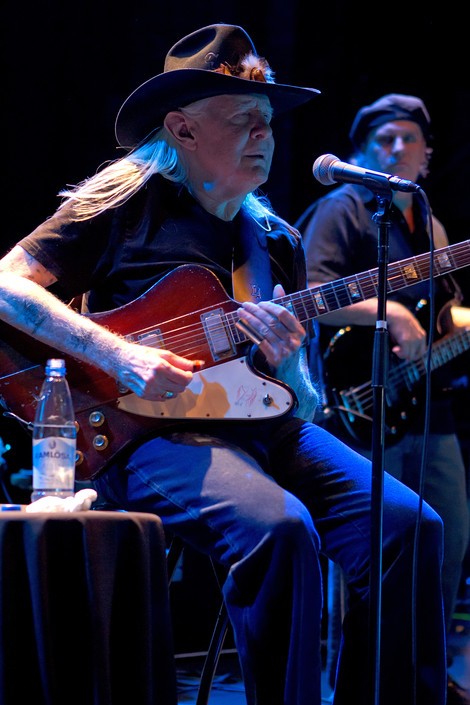 Legendary blues rocker Johnny Winter, 70, died Wednesday in his hotel room in Zurich, Switzerland. He was known for songs such as "Johnny B. Goode" and "Jumpin' Jack Flash" and writing "Rock & Roll, Hoochie Koo."
According to Reuters, officials confirmed he had a medical emergency, and an autopsy will be performed. Winter was touring Europe and had planned to take his show to Canada and then the United States later this summer.
A representative said in a statement, "His wife, family and bandmates are all saddened by the loss of one of the world's finest guitarists. An official statement with more details shall be issued at the appropriate time."
Winter released his first solo album, "The Progressive Blues Experiment," in 1968 followed by "Johnny Winter" in 1969. The album was a huge success and made Winter's mark in the blues community.
That same year he performed at Woodstock and began an affair with Janis Joplin. They performed together at New York's Madison Square Garden. He also jammed with Jimi Hendrix, evidenced by bootleg recordings that were stolen from Hendrix's home following his death.
In the 1970s Winter began collaborating with other artists, working as a music producer. He won three Grammy Awards for albums he produced for Muddy Waters. Winter received several Grammy nominations for his solo work, but never won.
He was a staple at the New Orleans Jazz & Heritage Festival, Chicago Blues Festival, Swedish Rock Fest, Warren Haynes X-mas jam, and Europe's Rockpalast. He was inducted into the Blues Foundation Hall of Fame in 1988.
On hearing of Winter's death, Motley Crue rocker Nikki Sixx posted on Twitter, "So bummed to hear about Johnny Winters (sic) passing. I spend many many years soaking up his music late into the night. #Original #TheBlues."
Winter's latest album, "Step Back," featuring Eric Clapton, ZZ Top rocker Billy Gibbons and Aerosmith's Joe Perry, is slated for release in September.