'Legend Of The Black Scorpion' Arrives On 2-Disc DVD Feb. 26

Blending dazzling choreography, dramatic camerawork and a
Shakespeare
tragedy,
Legend Of The Black Scorpion
debuts as a two-disc Ultimate Edition DVD set February 26th under the Dragon Dynasty label from Genius Products and The Weinstein Company.
Hong Kong's 2006 Academy Award entry for Best Foreign Language Film,
Legend Of The Black Scorpion
stage is set in the Five Dynasties and Ten Kingdoms Period of 10th Century China, featuring elaborate period costumes and sets.
Starring stunning Golden Globe® nominee
Zhang Ziyi
(
Memoirs Of A Geisha
,
Rush Hour 2
) and directed by Feng Xiaogang (A Sign, A World Without Thieves),
Legend Of The Black Scorpion
features intricate fight scenes from Jingwu Ma (
Seven Swords
) and Yuen Woo-Ping (fight choreographer,
Matrix
and
Kill Bill
films).
Dealing with themes of revenge and fate, the beautiful yet morose musical score of
Legend Of The Black Scorpion
by Oscar® winner
Tan Dun
(Best Music, Original Score, 2000,
Crouching Tiger, Hidden Dragon
) enhances the tone of the film by combining Western classical with Chinese classical music.
Legend Of The Black Scorpion
Ultimate Edition two-disc DVD includes commentary by Hong King cinema expert Bey Logan, interviews with director Feng Xiao-Gang and leading man
Daniel Wu
, behind-the-scenes featurettes and more.
Scheming royals and other officials seek to conquer empires and consolidate power to form a single omnipotent dynasty. Against this backdrop, a legendary empress (Zhang) with fighting skills unparalleled by any man, harbors forbidden desires for her stepson.
Special Features
- Feature Length Commentary By Hong Kong Cinema Expert Bey Logan
- Interview Gallery
- Master Of Ceremonies: An Exclusive Interview With Director Feng Xiao-Gang
- Warrior Prince: An Exclusive Interview With Leading Man Daniel Wu
- Production Gallery
- The Making Of
Legend Of The Black Scorpion
- A Dynasty Uncovered: Behind The Scenes On
Legend Of The Black Scorpion
- Trailer Gallery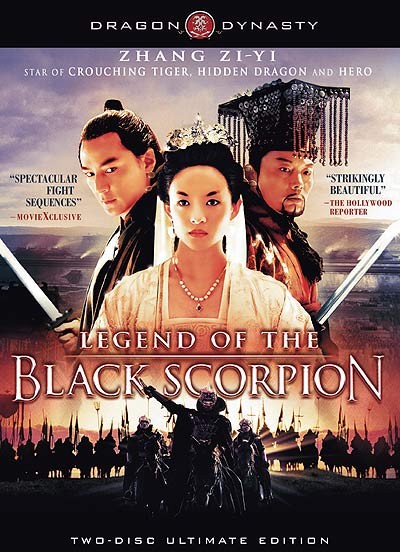 About Genius Products: Genius Products, Inc. (OTCBB:GNPI), along with The Weinstein Company Holdings LLC, together owns Genius Products, LLC, a leading independent home-entertainment distribution company that produces, licenses and distributes a valuable library of motion pictures, television programming, family, lifestyle and trend entertainment on DVD and other emerging platforms through its expansive network of retailers throughout the U.S. Genius handles the distribution, marketing and sales for such brands as Animal Planet, Asia Extreme(TM), Discovery Kids(TM), Dragon Dynasty(TM), Dimension Films(TM), Entertainment Rights group companies (Entertainment Rights, Classic Media and Big Idea), ESPN®, IFC®, RHI Entertainment(TM), Sesame Workshop®, TLC, The Weinstein Company® and WWE®. Genius Products, Inc. is the managing member of Genius Products, LLC, in which it holds a 30% equity interest.
About The Weinstein Company: The Weinstein Company was created by Bob and Harvey Weinstein, the brothers who founded Miramax Films Corp. in 1979. TWC is a multi-media company that officially launched on October 1, 2005. Dimension Films, the genre label that was founded in 1993 by Bob Weinstein, is also included under TWC banner. The Weinsteins are actively working on the production, development and acquisition of projects for TWC.