Legal Experts Say Accused Killer Casey Anthony May Get Away With Murder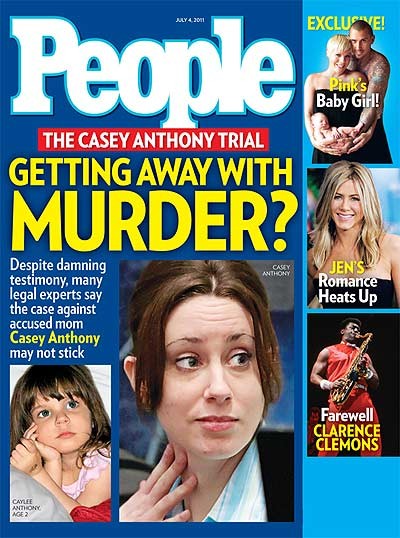 For three intense weeks, George and Cindy Anthony alternately listened and testified as the State of Florida methodically laid out a first-degree-murder case against their daughter Casey: Hair samples. Air samples. Damning computer searches for the words "chloroform" and "neck breaking." Having heard the state's case, do the parents who stood by her for three years before subtly pulling back as the trial began now believe their daughter is guilty? "Honestly, I think they're all over the place with that," says a family friend. "What they want, and what they've always wanted, is to know what happened."

25-year-old defendant, Casey Anthony, has displayed everything from scowls to sobs to stone-faced indifference as she sits beneath the words emblazoned high in the courtroom: Equal Justice Under The Law. Yet despite riveting testimony from more than 30 witnesses and 315 pieces submitted into evidence, the mystery surrounding Caylee Marie Anthony's disappearance on June 16, 2008, largely remains as vexing as ever.

The most surprising question remaining when prosecutors rested their case in a tension-filled Orlando courtroom on June 15: Could Casey Anthony - possibly the most hated woman in America right now - possibly go free?

Quite simply: yes. "There is all sorts of room for reasonable doubt," a defense expert tells PEOPLE. Adds Karin Moore, a former criminal-defense attorney and law professor at Florida A&M University, "This is definitely not a slam-dunk case. The state doesn't have an eyewitness. They don't have a confession, so most of the evidence is circumstantial." An acquittal - or a conviction on a lesser charge - is hardly far-fetched. "There are gaps in the prosecution's theories, and the jury will notice them," says New York City defense attorney Stuart Slotnick. A prosecution source counters that the evidence against Casey is substantial and sufficient. "People hear 'circumstantial' and think that means it's a weak case," the source says of the evidence, which ranges from the location of Caylee's remains to duct tape placed over her nose and mouth. "But what it means is that we built a case using a lot of evidence. There is no one smoking gun."

The jury might not see it that way. Seated some 15 feet directly across the artificially lit courtroom from the defendant six days a week, "they're quizzical about Casey herself," says Dr. Philip K. Anthony, a top trial consultant. "She's fairly poised when she needs to be and emotional when she needs to be. They're probably very interested in that."

The burden of proof rests with the prosecution, and the multitude of photos showing a fun-loving Casey partying in the weeks following Caylee's disappearance may not be enough to establish a motive for the murder - or that Casey had planned it in advance. "Party pictures can prove that she was out partying later but not that she intentionally killed [her daughter]," says Karin Moore. Nor is the wealth of testimony exposing Casey's web of lies. "Being a liar does not mean she's a murderer," says Slotnick. "It means she's an unlikable liar."

Now that the defense is under way, should Casey be called to testify by the defense - something experts say is necessary to beef up her claim of sexual abuse - "her credibility has already been attacked," says Moore. "If she decides to testify, that will hurt her."

Ultimately, of course, the decision rests with the five men and seven women seated attentively - and most often impassively - in the jury box who must agree unanimously on the verdict. "No one knows what the jurors are going to do, in part because the jurors themselves don't know," says Dr. Philip K. Anthony. "They are looking over at Casey and trying to figure out: 'Who is she?'"


*Also In This Week's 'PEOPLE'*

-Exclusive Photos Of Pink's Baby Girl: "It's A Beautiful Time" Says Pink
-Clarence Clemons 1942 - 2011: "One Of The Best Saxophone Players Of All Time" Says Vini Lopez
-Jennifer Aniston & Justin Theroux Heating Up: "Jen's Excited About The Future" Says Source
-Patrick Dempsey: "Im Thankful That I've Had A Job For As Long As The Show's [Grey's] Been On"