Leave Lance Alone! An Open Letter To The French

Dear Mes Amis Francais:
The world knows you have the most infamous cycling race ever. "The Tour" actually manages to interest a nation hell-bent on making football or baseball the universe's most important spot, soccer be dammed. Yet somehow during the summer at least a third of the American population can name something about the Tour, and almost all of us know it's most decorated rider,
Lance Armstrong
. We also know that you "gens" tend to make an example out of him.
Quit it already. Stop trying to find a way to foil our Texan's ability to fully own your cyclists. Most recently, a poorly documented "representative" from the French anti-doping agency was sent to collect random urine samples. He claimed suspicious behavior from Armstrong's camp. Your credentials were being verified! Not everybody that walks in is going to be given a cup of Lance's pee - which may arguably contain more vitamins than what some other Americans have swirling through their bloodstreams anyway. Allegations have plagued the man with the bike for years - none proving to be founded.
This whole anti-love affair was born out of the need to keep some things pure: the sport of cycling and the reputation of Le Tour de France. Understandable, but the man has tested negative each time. Just in this past year alone, the French Anti-doping Agency has tested Armstrong 24 times. Qu'est que ce passé? Negative scores, that's what.
Armstrong's incredible ability to bear through pain is out of this world, but have the French testers ever gone through testicular, lung and brain cancer? The ordeal is epic, and Armstrong has found another way to pull strength from it - whomping on world competition a record 7 times in cycling's biggest race. Sorry hometown French cyclists, accept it. He. Is. Better. The natural ability he possesses to process lactic acid and his heart's lower-than-hell resting BPM (reportedly around 34) just puts salt in the wound for anybody competing against him.
One has to wonder…is it the cycling prowess than angers the French, or his super Alpha Male abilities? The man had testicular cancer - he's flying solo if you can read between the lines. Yet, his first wife was hot, and his next fling was with singer
Sheryl Crow
. He's been linked to
Kate Hudson
and currently, despite cancerous sperm-killing truths, is awaiting the birth of his child with his current girlfriend. The man didn't just beat cancer; he's taunting it after the fact with his abilities on the bike - and in the bedroom. C'est la vie? No, it's Lance "No, really, I can do just about anything" Armstrong. Perhaps the jealousies are multifaceted, n'est pas?
Sincèrement,
Les Etats-Unis
PS Still love your wine.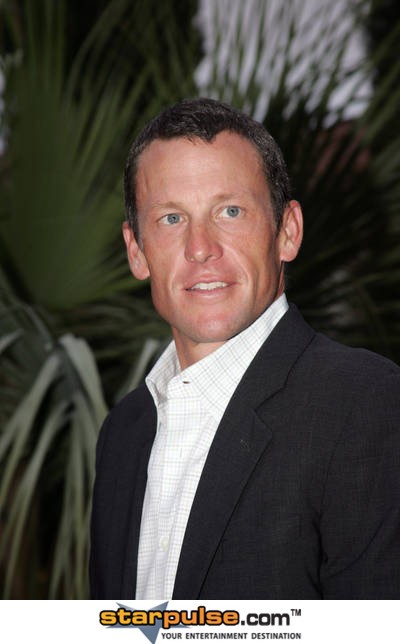 Image © Carla Van Wagoner / PR Photos
Story by
Kate Kostal
Starpulse contributing writer
Click here to follow @Starpulse on Twitter!