'Leave It To Lamas' Chronicles A Hollywood Family With Real Issues

If I were to rename E!'s newest show,
Leave it to Lamas
, I would call it
Leave it to the Reality TV Machine to Produce Another Show About Some Rich Family
. But if you were thinking this family was anything like their network predecessors the
Kardashians
, you thought wrong. The Lamas family has been in Hollywood for quite some time, and their most recent generation is no stranger to reality television.
Shayne Lamas
was a former winner of
The Bachelor
. As was expected, her relationship with the bachelor did not last very long, and she is now pursuing her career as an actress, following in the footsteps of her father and grandmother. The show covers what you would expect: the antics of a wealthy Hollywood brood, but the issues in this family give the show its depth.
The opening scenes of the show were a bit misleading - its shots of Los Angeles and soundtrack are reminiscent of
The Hills
, cutting to Shayne Lamas and her half-sister Dakota browsing through the tabloids to find an article discussing her father,
Lorenzo
's divorce. The magazine accuses their brother, A.J. of having had an affair with
Lorenzo's ex-wife
. This bit of news is much of what this first episode is centered around, but is only the beginning in explaining the tensions that exist within this family. We find out that A.J. has never had a particularly loving relationship with his father, and that this accusation is merely the tip of the iceberg when it comes to his daddy problems. Shayne and her sister Dakota are dedicated to helping their brother and father reconnect, and they try to help them patch things up by throwing a family barbecue. But Lorenzo doesn't show up and A.J. goes out for a root beer float - and shows up once dinner is finished.
"Leave it to Lamas" Episode 1 Highlights


The breakout star for this show has got to be A.J. He is indeed what one would call strapping - with handsome, dark features and full, slightly pouty lips. He is definitely a dreamboat. That rumor about him banging his father's ex-wife couldn't be too far-fetched! He also seems to have a
Khloe Kardashian
-esque sense of humor. A.J. is certainly the most likable of the bunch, but that is not to say his sisters are completely useless characters. Indeed not. Shayne, in particular had a lot of insight on A.J. and Lorenzo's relationship, urging him to reach out to his father, to let him into his life so things can improve between them. She seems to care very deeply about the rapport between her family members; and I think, as cheesy as it sounds, she just wants them to love each other and work as a functional family.
In this episode, Shayne is the one who works the hardest to dilute the bad blood between her brother and her father and it will be interesting to see her continued efforts in future episodes. All in all, like most reality shows, the premise is not particularly original, but the players are what give it its flavor. It will certainly be interesting to see what unfolds this season.
Catch "Leave it to Lamas" Sundays on E! at 10:30.
Story by
Jihan Forbes
Starpulse contributing writer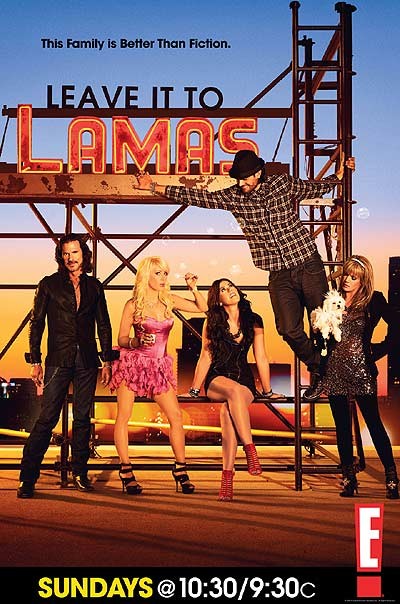 Image © E!