LeAnn Rimes To Release New Album 'Family' On October 9; Win A Copy!

Grammy® Award-winning singer/songwriter
LeAnn Rimes
will release her deeply personal new album,
Family
, on October 9, on Curb Records. Executive produced with Dan Huff (
Faith Hill
,
Keith Urban
,
Rascal Flatts
), LeAnn for the first time wrote or co-wrote every song on the album, which she says "is my most personal yet."
The album is led by the rousing, infectious first single "Nothin' Better to Do," which hit radio on May 29. LeAnn says of the song, which she co-wrote with her husband Dean Sheremet and Darrell Brown, "I was born in Mississippi and grew up for the first few years of my life in a tiny town called Pelahatchie. We wrote this song as if from my alter ego, a girl who never got out of that small town. Now, all that's left to do is cause a little trouble and have some fun!"
The accompanying video, co-directed by Rimes and David McClister, portrays the story of a young woman done wrong. The video is set in a women's prison in the south in the 1930s and was filmed at the Old Tennessee State Penitentiary, a real prison in Nashville which also provided the backdrop for
Tom Hanks
'
The Green Mile
and the
Robert Redford
,
James Gandolfini
film
The Last Castle
. The beautifully artistic video features scenes filmed on a vintage hand-cranked movie camera that creates an added period feel and a Chicago-esque dance sequence with LeAnn, choreographed by her husband Dean.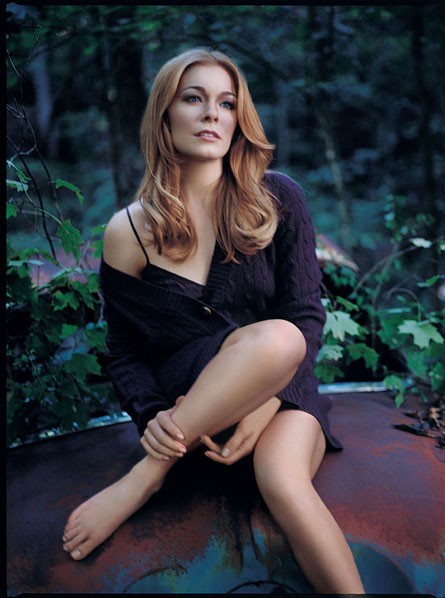 Of the new album, LeAnn believes, "It's a true reflection of my inner, most honest thoughts. I've really opened my heart and soul on this album and it captures the woman I've become. I literally grew up in the spotlight over the last 12 years and in that time, all of my fans and gracious supporters have become like my family. This album is a thank you to everyone, as none of this would be possible without them."
Whether it's the folksy, southern rock duet "Nothin' Wrong," with the incomparable, soulful Louisiana native
Marc Broussard
, the achingly vulnerable ballad "What I Cannot Change," the touching tribute to mothers everywhere "Pretty Things," the bluesy
Janis Joplin
-like torcher "One Day Too Long," the quintessential anthem for women "Good Friend and a Glass of Wine," the highly relatable power ballad ode to relationship strength "Fight," or the startlingly confessional lyrics of the title track "Family," LeAnn says, "these are not songs that just touch on the surface of topics, but are real life lessons that people everywhere will be able to relate to."
Upcoming TV Appearances:
Oct. 10 - The Today Show
Oct. 17 -
The Late Show with David Letterman
Oct. 18 -
Regis & Kelly
Nov. 6 -
Dancing with the Stars
Nov. 1 - "The Tonight Show With
Jay Leno
"
-
Head over to Starpulse contests for your chance to win one of five copies of 'Family' on CD!