LeAnn Rimes, Eddie Cibrian And Brandi Glanville Attending Therapy Together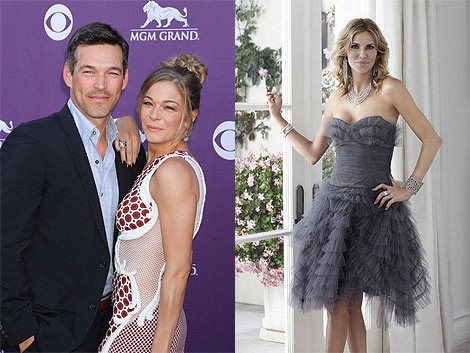 Singer/actress LeAnn Rimes has been attending three-way therapy sessions with her husband Eddie Cibrian and his ex-wife Brandi Glanville in a bid to improve communication between the trio.

Cibrian cheated on Glanville with then-married Rimes while filming TV movie Northern Lights together in 2009. They ended their respective relationships and wed in April, 2011.

Reality TV star Glanville has been open about the pain and betrayal she felt following her divorce from the actor and recently admitted she wanted to lash out at Rimes the first time she saw the new couple together with her sons Mason and Jake.

She told Australia's NW HQ, "I remember walking up... and there she was with my baby in her lap. My blood was boiling, and I thought I was going to kill her. I really thought I was going to physically hurt her.

"That was the first time I saw her that way - she was sitting in my soccer chair, under my tent, she's got my kid on her lap and she's with my husband, and that was that little moment of total irrational fury."

But The Real Housewives of Beverly Hills star Glanville insists she didn't actually want to harm Rimes. Clarifying her comments, she tells Eonline.com, "Every mother has those protective mother-bear feelings, but I obviously didn't want to kill her. It was a figure of speech."

She reveals the relationship between her ex-husband and his new wife has gradually improved, particularly with the help of a therapist - although she confesses the sessions, aimed at benefiting their kids, have been "uncomfortable" at times.

And Glanville is continuing to make an effort to be civil to the pair - she even invited them over for the Easter holiday: "I did it for the kids. I don't know that many ex-wives who would do that. I'm not a hateful person."