LeAnn Rimes And Eddie Cibrian Take Sick Girl To Disneyland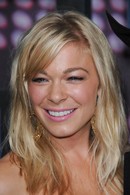 LeAnn Rimes fulfilled her promise to a sick little girl by taking the youngster on a trip to Disneyland on Monday.

Cadence Cogs, who suffers from septo-optic dysplasia, was recently was told she will lose her sight, and when the singer heard about her plight, she immediately began making plans to fulfill the six year old's dream of meeting Mickey Mouse.

Rimes teamed up with the Wish Upon A Hero foundation to fly Cogs and her family from their home in Hawaii to California for a week at the Los Angeles theme park, and the star and her husband, Eddie Cibrian, joined them for a day out on Monday.

In a series of posts on Twitter.com, Rimes writes, "Just spent a lovely hr (hour) with the most beautiful family, the Cogs family. Cadence is a blessing. She was so wide eyed & the family so grateful!"
"A little girl's whole life was made today and her whole family got to share in her joy."