Leaked Video Shows One Direction Stars Smoking A Joint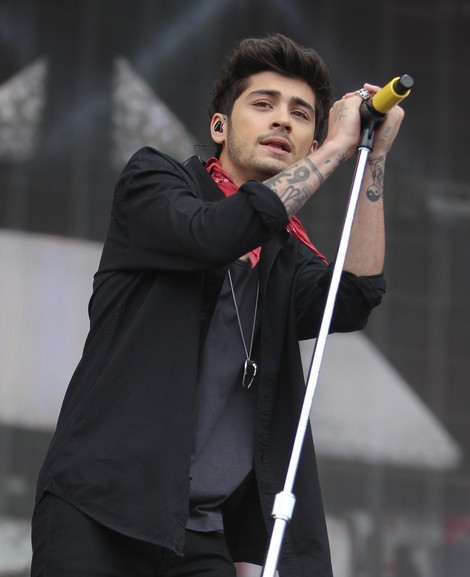 While on tour in Peru, One Direction stars Zayn Malik and Louis Tomlinson smoked a marijuana joint on the way to a gig and video taped their antics.
The Dailymail.co.uk obtained the 5-minute video of the stars being taken to Peru's Estadio Nacional in Lima on April 27. It shows Tomlinson, 22, holding the camera. He says: "So here we are, leaving Peru. Joint lit. Happy days. What do you think, Zayn, about that kind of content?" Malik, 21, responds, "Very controversial."
In the video, Tomlinson references an "illegal substance" and "Mary Jane," another name for marijuana, while also saying his "head is wrecked."
At one point, the bandmates, who are sitting in the back of the vehicle, mention the police, who are escorting them through Lima. Tomlinson says about one of the officers: "He's thinking, 'I'm sure I can smell an illegal substance in there.' And he's hit the nail on the head."
Tomlinson adds: "Zayn takes his job very seriously. He makes sure he goes through a two hour intense warm-up before every show. Just to get himself in the zone for the show.
"One very very important factor of Zayn's warm up of course if Mary Jane herself. In fact I will present it to him now for some fantastic singing."
Several fans were outraged after seeing the video and slammed the stars for being a bad example. One teen even posted an image of herself setting fire to a One Direction concert ticket.
Meanwhile, British rapper Professor Green defended the band members, writing on Twitter: "Poor 1d... I just don't get why they cause people such torment, two blokes having a zoot (joint) and a giggle in the back of a car... I'd understand if they posted the video themselves... Let 'em live for f*cks sake... and whoever sold em up the river should really just go and play in traffic... on the M1 (British highway)."
In Peru, marijuana possession is not illegal if it's used for personal and immediate consumption in small amounts.