Leah Remini Blames Sharon Osbourne For Getting Fired From 'The Talk'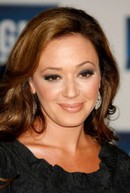 Actress Leah Remini has blamed Sharon Osbourne for costing her a job on TV chat show The Talk.

Remini, who is one of Jennifer Lopez's best friends, admits she and Osbourne never got along when they co-hosted the show and when it came to contract renewal time, she claims the Brit made sure producers knew how she felt about her colleagues.

The actress took to Twitter.com on Monday to clear up months of rumors about why she and Holly Robinson Peete did not return for the current season of the show.

She wrote, "Sharon thought me and Holly were 'Ghetto', (her words) we were not funny, awkward and didn't know ourselves... She had us fired."