Lea Thompson Interested In 'Back To The Future' Broadway Role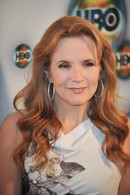 Back to the Future star Lea Thompson is hoping for a role in the Broadway musical version of the hit film franchise, insisting she'd love to be a part of the stage show.

The actress played Marty McFly's mom - and smitten school pal - in the time travel movies, and she's hoping there might be a role for her when the musical hits Broadway.

She says, "I played Sally Bowles on Broadway and that was fun playing a drug addict. They're talking about putting Back To The Future on Broadway which would be interesting.

"(Co-star) Christopher Lloyd and I could still be in it. I could sing, 'My son, my boyfriend, my son!'"