Lea Michele Will Be Back For More 'Glee'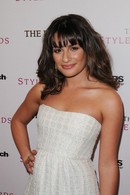 A Glee producer has assured fans Lea Michele, Chris Colfer and Cory Monteith will pop up in future episodes after they officially leave the show next year.

Co-creator Ryan Murphy recently revealed the popular stars, who play talented high school students, would "graduate" at the end of the third season later this year.
 
However, executive producer Brad Falchuk used his appearance at Comic-Con in San Diego, California on Sunday to clear up the reports.

He explains, "They are not done with the show after this season. Because they're graduating doesn't mean they're leaving the show. If you have Lea Michele under contract, you don't just say, 'We're going to let you go.' It was never our intention to let them go. They are not done with the show after this season."

Falchuk also dismissed reports the trio will star in a New York-based spin-off, insisting, "That was something we were planting as a possibility, but we didn't get much further than that. We're leaning against doing it. We certainly have explored it, but I think we're going to pass."