Lea Michele To Debut New 'Oz' Songs At Comic-Con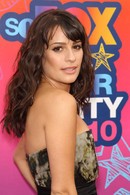 Glee star Lea Michele will debut songs she has recorded for 2012 animated movie Dorothy Of Oz at Comic-Con in San Diego, California this weekend.

Bryan Adams has written songs for the film's soundtrack and they will be unveiled at the world's biggest comic book convention.

Michele will play Dorothy in the film, which also features Hugh Dancy,  Patrick Stewart, Martin Short and Adams.

Jim Belushi, Dan Aykroyd and Kelsey Grammer will voice the Cowardly Lion, Scarecrow and Tin Man in the Wizard of Oz spin-off.