Lea Michele Gushes About Her Fondness For Taylor Lautner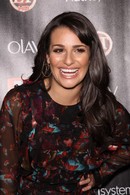 Actress Lea Michele struggled to contain herself when meeting Twilight hunk Taylor Lautner for the first time at a celebrity Hollywood luncheon on Thursday - and let her longtime crush know she wanted to marry him.

The pair met at the Hollywood Foreign Press Association luncheon, where Glee star Michele had the honor of welcoming the actor to the stage. She tells Eonline.com, "I was shaking. I was so nervous." Introducing Lautner, she told the gathered journalists, "I promise to control myself."

However, she failed backstage when posing for photos with Lautner, admitting, "I told him it was going to be our wedding picture. He is going to think I'm crazy."
 
Nevertheless, it appears Lautner is just as fond of the Glee star. He told reporters, "I love her. I had never met her before. She is such a doll."

Michele is now eager to land her crush a guest spot on Glee - but Lautner isn't so sure that would be a good idea: "I definitely can't sing. That would be a nightmare."

Michele wasn't the only star gushing about Lautner at the HFPA gala - Mark Wahlberg also singled the young star out for praise, directing a comment at Leonardo DiCaprio and stating, "I am sitting at a table with a gentleman who is better looking than you and is in better shape than me, so, we're both out of a job, dude. Taylor Lautner! We're screwed."