Lea Michele Gets Cheeky In A Sexy Bikini While Vacationing In Mexico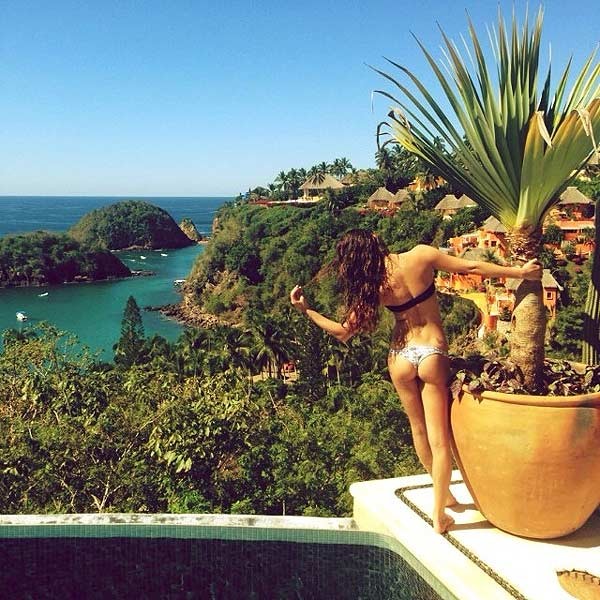 Lea Michele shows some serious skin in a new Instagram photo she posted while vacationing in Mexico last week.

The sexy Glee star wore a thong bikini on New Year's Day, showing off her derrierer and writing, "What an amazing week in Mexico... New day. New year. #Bringit2014."

The actress spent her vacation with best friend Jonathan Groff and has had a rough year after boyfriend Cory Monteith's tragic death in July.

"It's certainly been a pretty rough year," Lea told Ellen DeGeneres in early December. "But I've been surrounded by such great people, such great family."

Lea went back to work on "Glee" after less than a month after Monteith's death, and fans of "Glee" thought it was too soon for her.

"What people also don't understand is that going to work is no harder than being at home and being in the house and opening up a closet and seeing a pair of shoes," she explained. "There's this grief [that] goes with you every day whatever you're doing. When there's great moments, hard moments. So I'd rather, for me, be at work with the people who I love that are going through [it.] It obviously has its own triggers, but at the end of the day I feel so safe there. And like I said, they're my family."

Monteith died of an overdose of heroin and alcohol in Vancouver, Canada.

Good things should come for Lea in 2014 though, she's set to release her debut album, "Louder." Two singles from the album, "Cannonball" and "Battlefield," have already been released as audio tracks on her VEVO page. Check them out below...