Lea Michele Defends Her Sexy GQ Photoshoot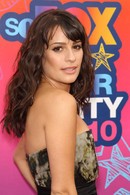 Glee actress Lea Michele has no regrets about her controversial GQ photoshoot last year and would "absolutely" pose for the sexy shots again.

The 25 year old was photographed in her underwear for the men's magazine spread, which also included her Glee co-stars Dianna Agron and Cory Monteith.

The cover featured the trio in a provocative pose in which Monteith put his hand on Michele's butt - and the pictures sparked a swathe of criticism from a parents' group, who labelled the images borderline "pedophilia".

Agron subsequently apologized for any offense caused by the shots, but Michele is unrepentant about the sexy shoot.

She tells Allure magazine, "People were really offended by this, being that we play high school students. But we're not high school students! Cory is almost 30, and Dianna and I are 25. But there was such controversy.

"There was one photo where I was sitting on a bench, and they just happened to get me in a pose when my legs were like that (spread open). Look, I do try to keep in mind that there are a lot of young viewers watching our show. But it's a delicate balance, continuing to be who you are but also remembering you're in a certain position."
"But would I do it again? Absolutely."