Lawsuit Against Suzanne Somers Dismissed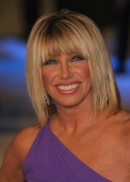 A lawsuit targeting actress Suzanne Somers over a failed business venture has been thrown out by a judge due to insufficient evidence.

The Three's Company star was sued by her former financial backer John Bouchillon, who claimed he poured $400,000 into a meal-preparation business called Suzanne's Kitchen, which opened in Kentucky in 2006 and closed a few months later.

The firm is said to have folded after a number of disagreements between partners, prompting Bouchillon to take legal action against Somers in 2008 in a bid to get his investment back.

The actress testified on Wednesday that her name and likeness were used to promote the business, but it was run by former Kentucky Governor John Y. Brown. The politician was dropped as a defendant before the trial.

Fayette County Circuit Judge James Ishmael decided on Wednesday there was not enough evidence for a jury to consider a verdict and dismissed the suit, according to the Lexington Herald-Leader.

Somers tells the publication, "It's great to be vindicated. I knew I had done nothing wrong. I know the judge put a lot of thought into his decision; it was a long time to sit."