'Law & Order: UK' 4.03 'Shaken' Review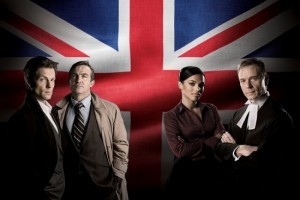 It's a delicate case for DS Brooks and DS Devlin this week: a baby that's been shaken to death. Crimes against children are among the touchiest subjects. The mere idea is guaranteed to upset everyone along the way. There are also plenty of suspects: the parents, the ex-wife, the nanny who's already accidentally given the kid an overdose once...
...yeah, that last one raised your eyebrows too, didn't it?
Ronnie and Matt dig into the young woman's past and find that she's pretty lousy at her job. She'd rather be spending time with her boyfriend than taking care of any children in her car. And her boyfriend just happens to have a baby brother who died under the same circumstances. It's interesting to see how alleged love crumbles under the scrutiny of the justice system, as both of them point the finger at each other. It could be either one of them, so it's charge both of them while trying to figure out which one of them actually did the deed.
When the boyfriend is exonerated, things get worse rather than better: he's been killed in custody. James blames himself for another death (following "ID", only two weeks earlier) on his conscience. Though he had no way of knowing what would happen, just as before, it's easy to see how these unfortunate things are chipping away at Steel's resolve. After all, he's been doing this for a long time before the beginning of the series, so one can only think how much he's weathered up to this point. With only three episodes left in his tenure, the walls are coming down. As much as I admire him for his relentless integrity, it's saddening but perfectly understandable that he can't maintain that strength forever.
There's a hung jury, and I love how James doesn't even consider giving up; he just starts talking about what they should do next time around. Then he makes the world's best angry face ever when the doctor who did the postmortem examination admits that there's a chance the baby's death could've been caused by a prior internal injury and they need to exhume the body to find out. Ticked is an understatement.  He and Alesha begin to do their usual relentless poking about, and discover that the upset ex-wife dropped the baby, which led to his accidental death. Awkward moment ensues all around.
"Shaken" is one of those episodes where you have a pretty good idea of what you're about to see. It's not a "whodunit" that you're going to be left guessing at. I find nothing wrong with an easy to figure out plot, as long as my attention is held by something else enough to make up for that. In this case, we've got plenty of intellectual material to chew on. The episode is what Law & Order is good at: presenting us with what we think is simple, and showing us the real complexities. As unfortunate as it is, we've all heard stories similar to this one, but look at everything that happens around it. An innocent man dies in custody after being accused of something he didn't do, just because he picked the wrong day and time to be visiting his girlfriend. How horrible is that? Here is the greatness of LOUK and the original series as well: we're not just looking at crime and punishment, but issues and consequences. Anyone who says this series is just a crime story is sorely mistaken.
For more Law & Order: UK, head over to DigitalAirwaves.net.