'Law & Order: Special Victims Unit' Review: 'Lost Reputation/Above Suspicion' (14.01/14.02)
Law & Order: Special Victims Unit got a shot in the arm last season with its major cast turnover, finishing one chapter and starting a new one. How does the show keep its momentum? By bringing in a pair of top-tier guest stars in Adam Baldwin and Paget Brewster, keeping Dean Winters around, and giving more attention to Dann Florek. It all adds up to the start of an intriguing season for SVU.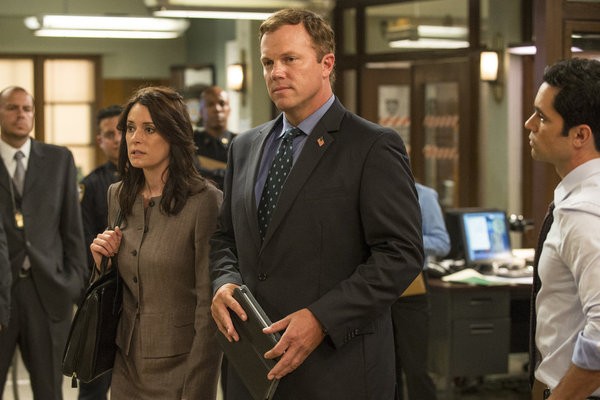 Picking up where the thirteenth-season finale left off, Special Victims Unit boss Captain Cragen (Florek) has woken up with a dead woman in his bed - the witness who previously approached Detective Amaro (the still vastly underappreciated Danny Pino). Cragen can't remember how she got there, but we learn through flashbacks that she wasn't as innocent as she wanted him or Amaro to believe. It's a classic setup, one that we've seen on cop shows before, but what holds our attention isn't the "what happened" but the "how is he going to get out of it?" Not to mention that the two-hour premiere pulls together wonderful performances from both the main and guest cast.
Assistant District Attorney Paula Foster (Brewster), who was the best part of ​Criminal Minds​ and is the best part of ​Dan Vs.​) is investigating the murder for the DA's Public Integrity Unit, and she's as hard-charging as they come. "I don't like publicity. I like my job. I'm not gunning for anything," she tells Detective Benson. Foster is a character who could be an incredibly one-dimensional antagonist, and in her first scene, certainly comes off that way. Yet in short order, Brewster is able to establish her as someone sympathetic to the situation, who could be as much an ally as she is an antagonist. She's an immensely likeable actress, which makes it more painful to find out her character isn't all she's cracked up to be. It's a shame that means we won't be seeing Brewster back, because she's a great get for any series.
Meanwhile, Cragen's replacement is the similarly tough Captain Steven Harris (the always-dependable Adam Baldwin of ​Chuck​ and more recently, ​Leverage​ ). Baldwin never gives a bad performance, and while he's pretty much here to poke and prod the detectives, he chews the scenery well.
Speaking of scenery chewing, it was a pleasant surprise to see Dean Winters reprise his role as Detective Brian Cassidy last season; his character was with the show so briefly that we didn't really get to know him, and Winters didn't get to show off the chops we've since seen in his work on FX's ​Rescue Me​. (It's worth a chuckle that one of his Allstate commercials played during the first hour of the ​SVU​ premiere.) Cassidy is an entirely different person now - as he should be after so many years absent - but there's an odd comfort in getting to see him again when the show could've easily come up with a random undercover cop to fill his role.
The only thing that rings hollow with his return is Benson's renewed romantic interest in him, which seems more like a knee-jerk reaction than anything else, and doesn't add anything to the story. We've seen a number of short-lived romantic partners for Benson over the course of the series, most recently David Haden (Harry Connick, Jr.) last season, and it feels as if the show ought to finally allow her a long-term romantic relationship one of these days. But to put her with Cassidy, after she hasn't seen him since their fling all the way back in season one and the girl he's been having an affair with recently turned up dead in her captain's bedroom, just doesn't seem like the right match.
The premiere takes an interesting tack with Amaro, who hasn't been with SVU long enough to show the blind loyalty of the more tenured detectives or to know all the players in the game. He's the dissenting voice amongst the main cast. His doubts and his crumbling marriage give Pino a fair amount to work with, and as in his work on ​Cold Case​, Pino has a knack for playing internal conflict and outward anger without overdoing it. With the ​SVU​ ensemble being such a tight-knit team for so long, it works to have one character who isn't entirely part of that bubble, is willing to express a contrary viewpoint, and who doesn't know how things are done. While Pino the actor has cemented his place amongst the SVU cast, it will be intriguing if Amaro stays on the outside of the squad awhile longer.
The only sour note with his character is the fate of Amaro's marriage - the entire subplot about his marital problems last season felt fairly contrived - but that's no surprise given that Laura Benanti, who plays Marie Amaro, is a regular on NBC's new sitcom ​Go On​.
Amongst all these strong performances, though, the winner here is Dann Florek, who continues to add more to the character of Captain Cragen. It was a genius idea for Dick Wolf to ask Florek to return for ​SVU​, because Cragen is probably the show's most stable character - both in terms of time served and how he's always there for his detectives through all the drama they've faced. Given that the role of a supervisor on an ​L&O​ series can sometimes be a minimal one, Florek is to be commended for how much he's done with Cragen. Having played him for the better part of twenty-two years, it's amazing that he hasn't tired of the role or run out of places to take the character.
There's a lot going on in these two hours, and given that it all picks up from a season finale that was months ago, the ​SVU​ writers do a fairly good job of refreshing the audience's memory as well as keeping all their plot threads in order. With two major antagonists and characters coming in and out of the narrative, there's enough information to need a flowchart, but the two episodes never feel cluttered. The plot moves along at a fairly steady pace, and even though it doesn't always ring true, it's consistently entertaining and hints at places the season could take all of the characters. Too bad the series is preempted next week after such a strong debut.
While there's a lot of talk about the ​Law & Order​ formula, ​SVU​ has made its name on fleshing out its ensemble within that framework, and that's still what it's best at. While there's a certain amount of playing by numbers that comes with the brand name, these two hours establish that even after thirteen seasons, there's still plenty to explore with these characters, and season fourteen should continue the momentum established by its predecessor. Don't sleep on ​Special Victims Unit​.
For more from Brittany Frederick, visit Digital Airwaves and follow me on Twitter (@tvbrittanyf).
(c)2012 Brittany Frederick/Digital Airwaves. Appears at Starpulse with permission. All rights reserved. No reproduction permitted.