Law And Disorder Continues With The Release Of "Reno 911! The Complete Fifth Season: Uncensored"

The deputies of
Reno 911!
are back with their most ridiculous season yet with sixteen episodes that'll leave you stewed, screwed, and tattooed. The fifth season features the deputies working as fast food employees, raising money by becoming door-to-door salesmen and building a section of the wall to keep Mexicans from the crossing the U.S. border.
With their failed stings and constant drinking problems, they'll prove to you that they have exactly what it takes to be cops: badges. Released via Comedy Central Home Entertainment and Paramount Home Entertainment, "Reno 911! The Complete Fifth Season: Uncensored" DVD arrives in stores nationwide today, Tuesday, July 15, and is also be available at
www.shop.comedycentral.com
.
Guest stars in the fifth season include
Christina Applegate
,
Diedrich Bader
,
Seth Green
,
Lisa Lampanelli
,
George Lopez
,
Patton Oswalt
,
Ryan Stiles
and
Nick Swardson
.
"Reno 911! The Complete Fifth Season: Uncensored" DVD is a three-disc set and features the following bonus material: "Cop Psychology: Inside the Minds of Reno's Deputies," a psychologist delves into the twisted psyches of the police force; extended scenes; and audio commentary with cast members
Robert Ben Garant
,
Kerri Kenney-Silver
,
Thomas Lennon
,
Carlos Alazraqui
, Wendi McLendon-Covey,
Niecy Nash
and
Cedric Yarbrough
.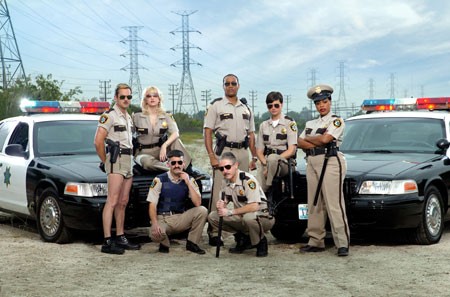 "Reno 911's!" premiere telecast was among the most successful in network history and it continues to be one of the network's most highly-rated series. "RENO 911!" gives viewers the chance to witness the men and women of the Reno Sheriff's Department at work and at play, offering a hilarious and unexpected spoof of the traditional cop reality program. With an ensemble cast that features "Viva Variety" and "The State" alumni Robert Ben Garant, Kerri Kenney-Silver and Thomas Lennon, "Reno 911!" is a narrative comedy about the adventures and relationships of a local Reno, Nevada precinct. Joining Garant, Kenney-Silver and Lennon on the "Reno 911!" beat are Carlos Alazraqui, Mary Birdsong, Wendi McLendon-Covey, Niecy Nash and Cedric Yarbrough.
-
Lots of great Reno 911! Pics
Paramount Home Entertainment (PHE) is part of Paramount Pictures Corporation, a unit of Viacom (NYSE:VIA, VIA.B), a global entertainment company that produces and distributes filmed entertainment through the Paramount Motion Picture Group. PHE is responsible for the worldwide sales, marketing and distribution of home entertainment products on behalf of various parties including: Paramount Pictures, DreamWorks SKG, Paramount Vantage, Paramount Classics, Nickelodeon, MTV, Comedy Central, CBS, PBS and Hasbro and for providing home entertainment fulfillment services for DreamWorks Animation Home Entertainment.