Laurie Fortier Makes Her Return With Netflix's 'Hemlock Grove'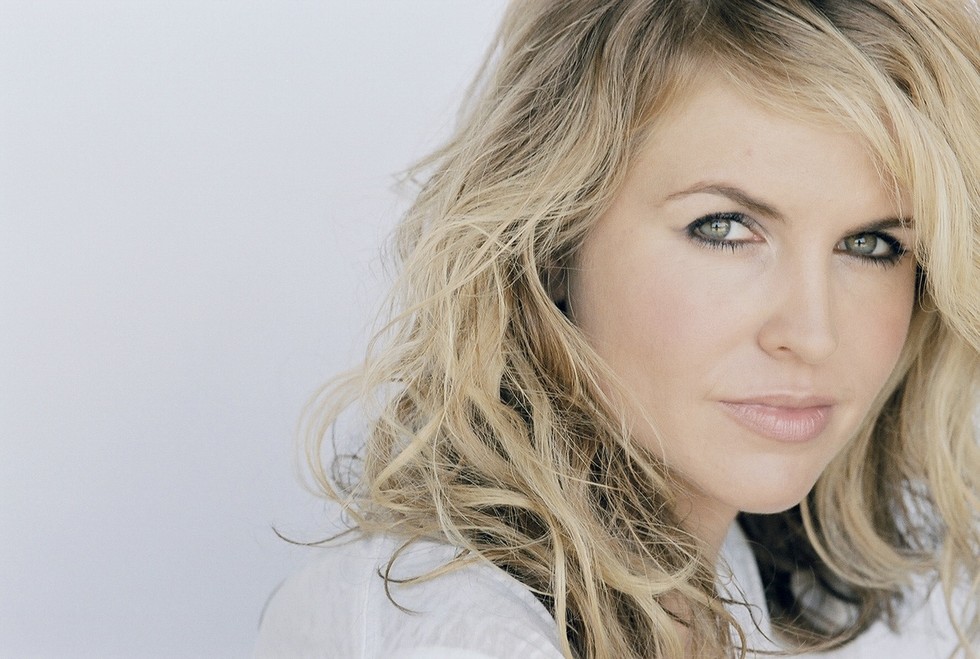 Netflix is on a roll with original series programming. After House of Cards and Bad Samaritans, the company is now entering the horror genre with Hemlock Grove, an adaptation of the novel by Brian McGreevy, which debuts its entire first season today.
To find out what all the buzz is about, BFTV recently connected with actress Laurie Fortier, who inhabits the role of Marie Godfrey, the "tortured" wife of Dr. Norman Godfrey (played by Dougray Scott, Desperate Housewives). Marie's in for a shock when she discovers that her husband is cheating on her with his sister-in-law Olivia (Famke Janssen, X-Men, Hansel and Gretel: Witch Hunters). To say nothing of the murdered girl found near the steel mill...
"I feel so blessed and so grateful, because the scripts are amazing," said Laurie of the new series. "It just really explores the dark side we all have." And it's a definitely major dark side, because in addition to murder and infidelity, there's a whole lot of crazy going on in the Godfrey family. "My daughter in the series is played by Penelope Mitchell [and her] name is Letha," she added. "I think it's [in] episode two, she comes to me and my husband and tells us that she's pregnant and she's been impregnated by an angel. So of course that's cause for concern!"
Laurie can somewhat identify with Marie, minus all the drama. The actress is a mother herself; Hemlock Grove is her first project after having taken a hiatus to spend time with her two children. "It's just excitement," she said of being back. "I've been doing this for awhile, but I've taken a lot of time off. Somewhere in the middle there, I realized how much I missed it."
One imagines that the business probably missed her, too. Having been a working actress for twenty years, she has an understandably long resume - and there are some pretty interesting parts on it. "Of course the first big film I did, To Gillian on Her 37th Birthday, I'm always so proud of it. It was a great role," Laurie said, reflecting on her favorite gigs. "But more recently, I did an episode of CSI: NY and I played an 80-year-old man. I was playing a con artist and I had this setup where I dressed up like an 80-year-old man. It was six hours of prosthetics. That was by far the most gratifying acting experience to date."
Personally, Laurie can also credit Hollywood for introducing her to her husband, veteran director-producer Deran Serafian (Nikita, House), who is also an executive producer on Hemlock Grove and directed six of the season's thirteen episodes. "We met working on a series that I did, Push, for ABC. The show aired for like five or six episodes and then they cancelled it, but they wanted to finish out the order. He came on [and] we met," she explained, adding that being married to a director has "been very helpful. I've learned so much as an actor, just as far as what goes on behind the camera. He's by far my number one director; I love working with him."
Now that she's back in the acting game, Laurie has no intention of slowing down. "I just did a guest spot on Franklin and Bash. I did the season premiere," she added. As far as what she's looking for next, "I would say it's all about growth as an actor, extending yourself," she continued, "and if I can look back on my body of work and know that I pushed the limits of my own self, then I'd say it was a success."
Even as she's excited about what the future holds, she's particularly proud of Hemlock Grove. "I felt like the producers and the writers had a freedom that radiated through the cast and crew," she said. "There was a camaraderie that I haven't experienced in a long time. We're all exploring a new frontier together."
You can now stream the entire first season of Hemlock Grove only on Netflix. You can also keep up with Laurie on Twitter (@laurie4ta).
(c)2013 Brittany Frederick. Appears at Starpulse with permission. All rights reserved. No reproduction permitted. Visit my official website and follow me on Twitter at @tvbrittanyf.