Lauren Toyota Says MMVA Co-hosts LMFAO Might Show Up Naked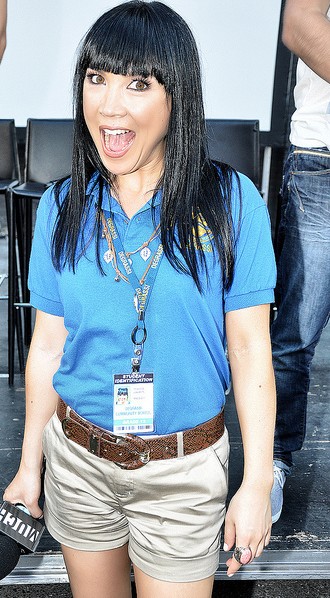 We caught up with Lauren Toyota, who will be co-hosting the 2012 MuchMusic Video Awards with party rockers LMFAO, and she told us what to expect from this year's MMVAs. This awards show is the second largest show that Canada puts on and attracts celebrities from all across the globe. Its unique in format and one of the biggest street parties around. "It is totally unique than all the other awards shows on television because we basically throw a huge block party [and] we close down the two main streets in Toronto," Lauren shared.
The show is also much more fan-interactive than most TV awards shows. Toyota said, "The streets are full of people who don't necessarily have tickets to get inside right to the stage, but you can see the stage from the street and you can watch all the performances from street level." She added, "It attracts fans from all around Ontario and some people drive in from all over Canada to see it live."
The show will have four stages, one inside and three out, that will have huge performances by artists like Justin Bieber, Katy Perry, and host LMFAO. "I am pretty excited to see LMFAO and Katy Perry," Lauren said. "As far as I know, they aren't performing together, but I feel like they have that fun, party vibe and really big, hit pop song, so you never know what is going to happen at the MMVAs."
Lauren also shared some inside information about this year's co-hosts. "They kind of told me in an interview that I did with them a few weeks ago that they want to show up completely naked. So that could happen," she said. While it is doubtful they will be completely naked, we should expect the "Sexy and I Know It" singers to be wearing limited clothing.
One of the most entertaining factors of the MMVAs is the red carpet. "Every year it becomes almost a contest to see who can come in the crazier way or with the crazier entourage, so even the international artists who come here for the first time every year hear about the reputation of our red carpet arrival and they start making plans early," Lauren said. She also revealed that Far East Movement may be cooking up a special entrance. We can also expect an outrageous entrance from Marianas Trench, who have showed up in a hot tub and hamster ball in the past.
Check out Lauren Toyota co-hosting the MuchMusic Video Awards on June 17 on Fuse live at 9 pm ET.