Lauren Conrad Goes Topless For Glamour's Annual May Swimsuit Issue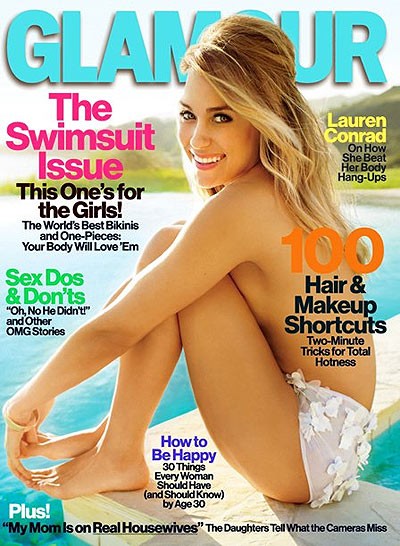 Former Hills star Lauren Conrad is showing off her sexy curves on the pages of the May 2012 issue of Glamour magazine.

The reality star has been busy lately - she recently launched her third fashion line, Paper Crown; launched a new beauty website called The Beauty Department; and on April 3 she released sher sixth book, The Fame Game. (Lauren's book Style was released in paperback format on April 3 also, and she's giving away a signed copy on her official site)

In the May Glamour, Lauren dishes about getting over her hang-ups over her body image

"On the vacation to Cabo, I wore a bathing suit on the beach for the first time in years," she says. "Usually I'm just petrified. A couple of years ago someone zoomed in on my cellulite and it was so mean. I took it really personally.

"I haven't worn a bathing suit in L.A. in years because of that."

Lauren also says that her friendships with her former "friends" on The Hills - including Audrina Patridge, Heidi Montag and Whitney Port - are now a thing of the past.

"The show is what brought a lot of us together," she says; "And when it was gone, we didn't have anything in common anymore."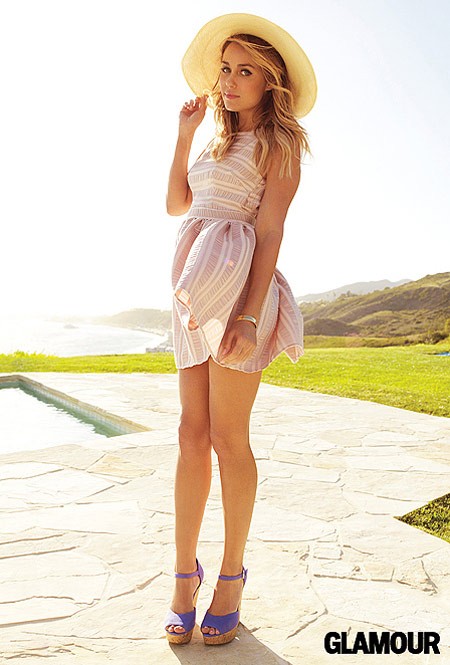 The sexy star even shares a little secret about the show and why she and her castmates were always checking their cell phones.

"During shooting, the producers would send us quick text messages telling us what to talk about. They couldn't walk through the shot, so they'd just text me, like, 'Say something quick about this story line.' That's why we were always checking our phones!"

Despite her fame and success as an author and fashion designer, Lauren remains down-to-earth and hasn't let fame go to her head.

"For me, the best way to stay grounded is to surround myself with friends and family who knew me way back when.

"There's nothing like cleaning my mom's dishes or taking out the trash to remind me that I'm no different than anyone else," she says.

Check out more about Lauren in the May issue of Glamour, which hits newsstands on Tuesday, April 10th; and check out Glamour.com for more on all the fashions and accessories featured in Lauren's photo shoot.