Lauren Conrad Gets Animated In 'Family Guy'

Lauren Conrad
joins good company like
Drew Barrymore
and the cast of
Star Trek: The Next Generation
as one of the celebrity guest stars of
Family Guy
. Like the TNG cast, she plays herself. Get ready to see
Seth MacFarlane's
artistic take on the star of
The Hills
.
"That's actually the most exciting part is to see what you look like animated," Conrad said. "I think that I was basically just a blonde character though in this episode. I mean, I feel like unless you have a really prominent feature on your face, you kind of just look like a cartoon character, so I thought it was fun."
On the episode, Brian will discover that Conrad is not the way she appears on
The Hills
. How's that for a good PR spin? "I don't know if it's necessarily me or just the reputation of an average reality star they were going for, but the idea in the episode is that they basically make fun of me for being dumb, and then he discovers that I'm actually a genius and that it's kind of a character I play because America likes dumb people. I think it's a more exaggerated version of who I am, but it was kind of fun to play."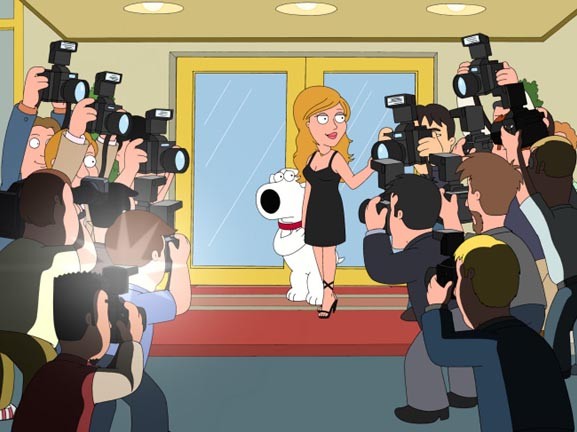 Brian dates Lauren Conrad (guest-voicing as herself) to try and hide the fact that his heart belongs to someone else in the "We Love You Conrad" episode of FAMILY GUY airing Sunday, May 3 (9:00-9:30 PM ET/PT) on FOX. FAMILY GUY ™ and © 2009
Conrad herself was already a fan of the show so she was game to join the warped sense of humor of
Family Guy
. "Yes, I am a fan of the show. I've watched it for years. My favorite character is Stewie. I only did a few lines, but I did a couple lines on an episode where they were watching television, and they did a clip of
Laguna Beach
, and that's how I met Seth and the first time I got to do the show."
Family Guy airs Sunday night at 9 on Fox.
Story/Interview by
Fred Topel
Starpulse contributing writer
(Starpulse in Hollywood)
: Every week, Hollywood's biggest stars are meeting in the hot spots and Starpulse is there.