Laura Mennell Previews Season 2 of SyFy's 'Alphas'
One of the pleasant surprises last TV season was SyFy's original series Alphas, and one of the best things about the show was Laura Mennell as Nina Theroux, who can use her powers of hyper-induction to mentally "push" people into doing whatever she wants or needs them to. Recently, Laura took me inside what we can expect from season two (which begins tonight at 10 PM ET/PT) and how she makes Nina such a dynamic character.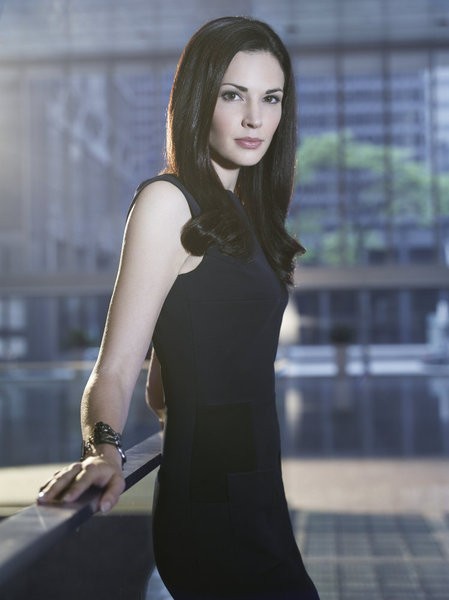 "It's been a fun season because Nina has a really interesting character arc this year," she explained. "When we come back, Nina's distanced herself from everybody and she's basically been reverting back to her old ways. As the season progresses, [she] gets more compulsive in her ways of pushing. It's more of an addiction. Her pushing fills this void, this emptiness, to an extent and it doesn't matter at what cost, [or] whether she's hurting the people that she really, genuinely cares about. It gets really interesting and there's a bit more of a darker underbelly to Nina this year."
Thanks to Laura's excellent portrayal in season one, Nina was an intriguing study in the quandaries of mental manipulation, and the audience was able to be inside her mind as often as she was in the minds of others. Will we still retain that empathy with her even as she takes a turn for the darker side? That remains to be seen, but it sets up another interesting journey for the character.
Now that Alphas has survived the always-nervewracking freshman season, she said the series has found itself a bit more. "Last season everything was new and everything was fresh, and we were just kind of playing around and trying to find things," she said. "This year we're a lot more established. We know who our characters are and we know where we're going. We've had a lot more time to kind of get more layered in our characters and the show. We have more breathing room."
"The nice thing about our show is I think all our writers are very open to our suggestions," she continued. "They're interested in our input. Although I always find, at least with me, I'm happy to be very open to what's going on and see where they take me. I like that process as well."
Speaking of processes, she shared her own when it comes to working with scripts and preparing characters. "It changes from script to script and really depends on what I'm doing," she said. "I'll sort of intuitively try to feel where it's going. It's nice to find a personal connection to certain things if you can," she added, citing music and even film as sources of potential inspiration.
As much as fans have been waiting for Alphas to return, Laura was equally excited to come back to the show and the role of Nina. "I was especially really excited coming back for season two," she confided. "It's lots of fun. It starts feeling like home. You get to work with everyone you love to work with, people that become important to you - cast and crew."
Once the show finishes filming, Canadian fans will have the chance to see her on stage, as she returns to the play Tear The Curtain. Laura starred in the Richardson Theatre Award-winning production in Vancouver, and it will be headed to Toronto, where it will run from October 7-20, 2012. You can find more information about that here and check out the official trailer from the Vancouver run below.
Alphas returns tonight at 10 PM ET/PT on SyFy. Season one is now available on DVD.
You can follow Laura on Twitter (@L_Mennell). For more from Brittany Frederick, visit my Starpulse writer page and follow me on Twitter (@tvbrittanyf).
(c)2012 Brittany Frederick/Digital Airwaves. Appears at Starpulse with permission. All rights reserved. No reproduction permitted.