Laura Marano: Rising Star
She can sing, she can act and she's got brains. 16 year old Laura Marano is definitely the perfect package. The teen actress is one of Disney's newest talents, and she plays the lead role of Ally in "Austin & Ally", alongside co-stars Ross Lynch, Calum Worthy and Raini Rodriguez.

Laura has been acting ever since she was five years old, and since then, she has had roles in "Superbad", "Without A Trace" and she voiced additional characters in "Ice Age: The Meltdown". Perhaps you may have known her as Laura from season 1 of "Are You Smarter Than A 5th Grader?". She was a regular cast member on the show until she left half-way through the season, and was replaced by Marki Ann Meyer.
It is evident that acting is in Laura's blood. Her sister, Vanessa Marano, is also a well-established actress, who is best known for her roles as Bay Kennish in "Switched At Birth" and Layne Abeley in "The Clique". Their mother, Ellen, owns the Agoura Children's Theatre, which specializes in theatre, acting and improvisation skills.
Now, let's talk about Laura's current project, which has won the hearts of many tweens, teens, and young adults. The Disney Channel sitcom, "Austin & Ally", follows the lives of two teenagers named Ally Dawson (Laura Marano) and Austin Moon (Ross Lynch). Austin is a singer, while Ally is his song-writer. The two agree to work together and struggle with how to keep Austin's newfound fame and profit from it, with the help of their best friends Trish (Raini Rodriguez) and Dez (Calum Worthy), while keeping up with their everyday lives in the meantime.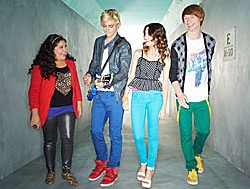 When asked about her role on the show, Laura told The Sacremento Bee, "I think Ally and I are so similar. I think Ally might be cooler than me, to be honest. Ally works in a music store, and that's really awesome. Obviously I don't have stage fright, she does. But I'm so awkward. I don't think you understand I'm really, really awkward, and Ally's pretty awkward. We're both goody-two-shoes. I need teachers and people who are charged to like me, and I need to follow rules, and if I don't, I feel not good. So I always try to follow rules and different things. I like to think I'm a better dancer than Ally, because Ally needs help in that department."
Yep, we definitely agree that Ally does need some help in dancing. We absolutely love Austin & Ally, and we really love how Laura portrays Ally Dawson so well! Here's the best part – the show includes some of Laura's vocals, and boy are they powerful! She could be one of Disney's biggest stars to date!
Watch out world, because Laura Marano is a rising star, coming to capture your hearts at a television set near you.