Latest Stevie Ray Vaughan Disc Gathers Live Recordings And Amazing Collaborations

Like the greatest 20th century blues and rock guitarists who preceded him, many of whom were primal influences on his journeyman lifestyle and unpredictable musical outlook,
Stevie Ray Vaughan
(1954-1990) was always ready, willing and able to jam. Whether it was a rhythm section backup assignment in the recording studio for another singer or instrumentalist, or a live drop-in on stage at a nightclub or festival, his presence enhanced every session he made, and left some unforgettable music in its wake.
For the first time, an entire album collection is devoted to this side of Stevie Ray Vaughan's career.
Solos, Sessions & Encores
gathers 14 varied performances - half of them live, including the near-mythic 1984 jam with
Jeff Beck
at the CBS Records Convention in Honolulu. With one 1978 exception, the album spans five of his years as an Epic Records artist, from 1983 to 1988. There are album session tracks with
Albert King
,
B.B. King
,
Paul Butterfield
,
Marcia Ball
,
Johnny Copeland
, A.C. Reed, Bill Carter,
Dick Dale
, and
David Bowie
's "Let's Dance" (the worldwide #1 chart smash that ignited Stevie Ray's stardom in 1983) - plus six previously unreleased tracks (five of them live) with
Lonnie Mack
,
Katie Webster
,
Albert Collins
,
Jimmie Vaughan
,
Lou Ann Barton
, and
Bonnie Raitt
.
Solos, Sessions & Encores
will arrive in stores November 6th on Epic/Legacy, a division of Sony BMG Music Entertainment. The same date marks the arrival of the first DVD edition of
Pride And Joy
, the updated and expanded version of the 1990 video collection, which now more than doubles its original VHS length and contents. The new DVD reprises the original eight segments (six promo video clips shot for four of Stevie Ray Vaughan and Double Trouble's studio albums, plus two live numbers) and now adds a bonus promo video clip, three MTV "Unplugged" acoustic numbers, two television commercials, and performances with Stevie Ray's older brother Jimmie in the Vaughan Brothers (along with the EPK created for that band).

While
Pride And Joy
digs into the history of Stevie Ray Vaughan and Double Trouble,
Solos, Sessions & Encores
focuses on the versatile sideman talents of one of the greatest guitar players who ever lived. "Stevie had great reverence for his favorite musicians, and great respect for the friendship he shared with them," writes Andy Aledort, Associate Editor, Guitar World magazine, in his 1,300-word liner notes essay. Aledort previously scribed liner notes for the SRV box set (2000), The Essential Stevie Ray Vaughan (2002), and The Real Deal: Greatest Hits, Vol. 1 (2006). "The warm, personal bond Stevie had forged with all of the guest artists presented here is a quality that is audible in each and every track."
Solos, Sessions & Encores
pays homage out-of-the-box to Stevie Ray in the company of three blues masters - guitarists B.B. King and the late Albert King, and the late blues harmonica great Paul Butterfield, on "The Sky Is Crying," the Elmore James classic that became a Double Trouble signature. The song was recorded live at the Ebony Showcase Theater in Los Angeles in 1987, for the long-form home video,
B.B. King & Friends - A Night Of Blistering Blues
.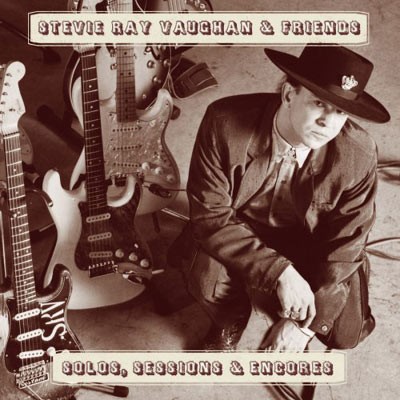 Three more blues masters, who have all passed on, called up Stevie Ray: fellow Texan-turned New Yorker Johnny Copeland with "Don't Stop By The Creek, Son," from his 1983 album,
Texas Twister
; Chicago tenor saxophonist A.C. Reed, who played alongside Albert Collins for years, with the instrumental "Miami Strut," from 1987's
I'm In The Wrong Business
; and the Iceman himself, guitarist Albert Collins, is heard with Stevie on the previously unreleased live version "Albert's Shuffle," from the New Orleans Jazz & Heritage Festival in 1988.
Also at the New Orleans Jazz & Heritage Festival in 1988, local Crescent City pianist/vocalist Katie Webster brought Stevie onstage for the previously unreleased live version of "On The Run," whose original studio version featured Bonnie Raitt on guitar (from Katie's album released that year,
Swamp Boogie Queen
). As for Bonnie, Stevie Ray caught up with her in 1985, at the Bumbershoot Fest in Washington state, for the previously unreleased live version of "Texas Flood," the Larry Davis blues that became another Double Trouble signature (and album title tune).

Two equally distinctive Texas-bred female rockers are heard with Stevie Ray: the title track of blues pianist/vocalist Marcia Ball's 1984 album
Soulful Dress
gets a blistering solo from the guitarist; and from the previously unreleased Triple Threat Revue 1978 sessions in Nashville with singer Lou Ann Barton and bassist/vocalist W.C. Clark, comes their take on the
Irma Thomas
novelty, "You Can Have My Husband."
Two major 1960s-era electric guitar innovators whom Stevie Ray idolized were Lonnie Mack (of "Memphis" fame) and surf-rock honcho Dick Dale. Mack's 1985 album,
Strike Like Lightning
, was produced by Stevie Ray and featured him on several tracks, one of which, "Oreo Cookie Blues," is heard here in a previously unreleased live version recorded on New Year's Eve 1986 at the Fox Theater in Atlanta.
The following year, on the Columbia soundtrack album
Back To The Beach
, Stevie Ray realized another lifelong ambition when he recorded a duet with Dick Dale on the
Chantays
' instrumental workout "Pipeline" - which Stevie and brother Jimmie used to perform together simultaneously on the same doubleneck guitar back in the day. As for Jimmie, he joined Double Trouble for one night in 1985 on NBC's
Saturday Night Live
, when they were promoting their new Epic album,
Soul To Soul
. They performed two songs, one of which was this previously unreleased live version of
Doyle Bramhall
's "Change It."
Solos, Sessions & Encores
comes full circle with its closing track, David Bowie's "Let's Dance," heard here in its full-length seven and a half-minute album version. In his 2004 liner notes essay for the Stevie Ray Vaughan and Double Trouble two-disc DVD chronicle, Live At Montreux 1982 & 1985, Bowie wrote: "Come the show, blasting through a short but riveting set, SRV completely floored me. I probably hadn't been so gung-ho about a guitar player since seeing Jeff Beck in the early '60s with his band the Tridents at Eel Pie Island, London. He was so complete, so vital and inventive with the form."