Late Legendary Bluesman Albert Collins' 'Live at Montreux 1992' CD/DVD Coming March 4

Eagle Rock Entertainment will release both the CD of
Albert Collins
Live At Montreux 1992
and its companion 102-minute DVD on March 4. These stunning documents mark one of the last concerts that the late bluesman (1932-1993) performed before he succumbed to cancer on November 24, 1993.
Collins was known throughout the blues world as "The Ice Man." With his trademark Fender Telecaster and his distinctive fingerpicking style, Collins, on this night, delivered a career-spanning set of originals and covers.
Bonus tracks on the DVD include four lengthy jams from Montreux '79: "Listen Here," "Snatchin' It Back," "Cold Cold Feeling" and "Frosty."
Collins was a Texan, a distant relative of Lightnin' Hopkins, who, as a kid, soaked up the regional blues styles of Chicago and Mississippi. His first band, in 1952, played Houston bars. His first independent album, in 1965,
The Cool Sounds Of Albert Collins
, came after he relocated to Kansas City and included the instrumental "Frosty." In '67, he moved to San Francisco, a mecca for exploding rock'n'roll of the hippie subculture, where he found national fame playing alongside some of the biggest bands in the country. One such band,
Canned Heat
, helped him get a major label deal. The 1968 Imperial result was one of the great '60s blues albums,
Love Can Be Found Anywhere (Even In A Guitar)
.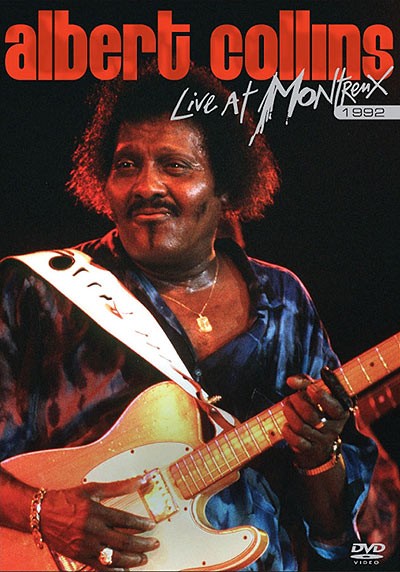 He moved back home to Texas as a star in 1973. In 1978, he signed to Alligator for that year's
Ice Pickin'
, the first of seven albums for the Chicago blues label. The '80s and '90s saw him tour around the world, influencing generations of blues and rock performers. He won the 1983 WC Handy Award for
Don't Lose Your Cool
(Blues Album Of The Year). His 1985
Showdown
album with
Robert Cray
and
Johnny Copeland
won a Grammy Award.
Track Listing:
1) Iceman
2) Honey Hush
3) Lights Are On (But Nobody's Home)
4) If You Love Me Like You Say
5) Too Many Dirty Dishes
6) Put The Shoe On The Other Foot
7) Frosty

Eagle Rock Entertainment develops, acquires and produces music programming for a wide range of notable and high profile artists, which the company distributes on a worldwide basis. Eagle Rock Entertainment, Eagle Vision and Eagle Eye Media are wholly owned divisions of Eagle Rock Group, LTD.