Last Week In Gaming: Lindsay Lohan, DayZ and More!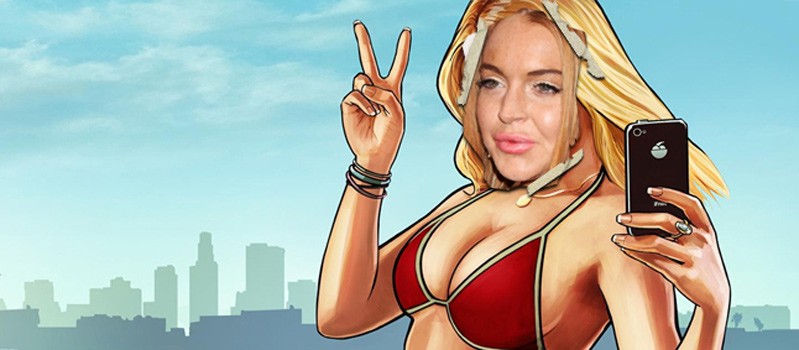 NOTE: Due to the Holiday weekend, this week's "This Week In Gaming" has been temporarily changed to "Last Week In Gaming."
---
Sick of plodding through the countless gaming websites out there for news? Good, because we do it so you don't have to! Though it has been quite a slow gaming week, here's all the new you need to know from last week. Enjoy!
DayZ: The Undiscovered Country

Since the days of the original DayZ mod for ARMA 2: Operation Arrowhead, a mysterious island off the coast of Chernarus has existed. The Island, which serves no real use and is completely empty, has finally be rediscovered in the standalone version of the game.
Found by Reddit user Gews, after stocking up on water and food the player spent 4 hours swimming to the island, presumably all the while constantly holding the "W" key. Here are the pictures that recount his magnificent and epic trek across the ocean. And who said gamers weren't dedicated...
Grand Theft Auto: Madrid

No no, before you get all excited- Rockstar Games isn't making a GTA game based in Madrid, sadly. However, since the release of the original GTA V trailer back in November of 2011, we've seen it turned into many parodies and remakes. From remaking it in Red Dead Redemption and GTA: San Andreas, we thought we've seen it all... until now.
Created by a group Spanish filmmakers called Zapruder Pictures, the GTA V trailer has been remade in live-action Madrid. From every cut, camera movement and body gesture, this trailer looks utterly authentic. While we may not have GTA: Madrid in real-life just yet, we can at least watch this trailer and wonder what could be...
Lindsay Lohan sues Rockstar Games

Staying in line with our last piece of news, everyone's favorite nobody Lindsey Lohan is suing the creators of Grand Theft Auto. Why? Well, Lohan is claiming that a character in GTA V is based off her likeness and personality. The character is question is Lacey Jonas, a person that is depicted as a failed, coked up, promiscuous, Paparazzi attention grabbing mess of a celebrity. Yeah, we can't see the similarities either...
Lohan has filled a lawsuit against Rockstar Games, and while I'm sure this will lead absolutely nowhere, I guess it'll get her back in the news. We all knew the character of Lacey Jonas was heavily based on Lindsay Lohan when we played GTA V last year, but I don't think parody and lampooning is a law breaking offense. Sorry Lindsay.
R.I.P Airtight Games

I didn't really care for Murdered: Soul Suspect, the game that placed you in the spectral shoes of the ghost of a recently deceased hard boiled detective, who must then solve his own murder.
While the game had an absolutely fantastic premise, the payoff never came throughout its gameplay. Coming across as if it was heavily inspired by Heavy Rain, Murdered: Soul Suspect was just as much of a bore fest as Quantic Dreams' walking simulator. That said, I did quite enjoy Airtight Games' 2010 title, Dark Void. Packed with a stunning art-deco visual design and exceptionally fast and frantic gameplay, Dark Void was a hugely underrated gem.
Now sadly Airtight Games is closing down for good, presumably because of the dire Murdered: Soul Suspect sales.
Selling off office equipment at a massive discount and apparently leaving the companies E3 awards on an empty desk, without any kind of official announcement it seems like Airtight Games is no more. Lets hope everyone involved can find new positions in the industry soon, as they truly are a talented bunch of people. Best of luck all!
Rob Pardo leaves Blizzard Entertainment

After 17 years of work behind him and being the leading force behind games such as World of Warcraft, Starcraft and Diablo 2, designer Rob Pardo has left Blizzard Entertainment for greener pastures.
This comes as a massive blow to Blizzard Entertainment, as though I'm sure they can overcome this loss of creativity, they were in a much stronger position with someone of his passion at their side. As far as what Rob wants to do next, in a statement he said "My priorities are to enjoy the summer with my family, play plenty of games, and think about what's next."
I'm personally hoping he starts his own independent developer, and possibly focuses on PC gaming. In fact, with the likes of Kickstarter working for many veteran developers as of late, we may see him venturing into some pretty interesting territory next.
Crytek UK's woes are getting worse

Remember last week when we told you that employees of various Crytek studios are not being paid? Well, though Crytek still deny all of these rumours, things are getting much worse for the Crysis developer. Kotaku is reporting that staff members at Crytek UK -who are currently developing Homefront: The Revolution- are no longer going to work. The worse part is that Crytek, even after genuine proof that these troubles are real, are not making any comments.
With the future of Homefront: The Revolution in jeopardy and Ryse 2 simply being canned, I can't see this ending well at all. Here's hoping Crytek will work things out, but even then I can't imagine these employees in question having much fate in the company that refused to even pay them.