'Last Resort' Star Jessy Schram on Playing the Hero's Wife
Much of the action on ABC's Last Resort takes place with the crew of the USS Colorado. Yet there's also drama on the home front as Christine Kendal, wife of the ​Colorado​ 's executive officer Sam Kendal (Scott Speedman), finds herself targeted by the government and fighting to defend her husband's honor.
Actress Jessy Schram, who plays Christine, recently chatted with Digital Airwaves about what's ahead for her character and what it's like to be separated from most of the rest of ​Last Resort​'s talented cast.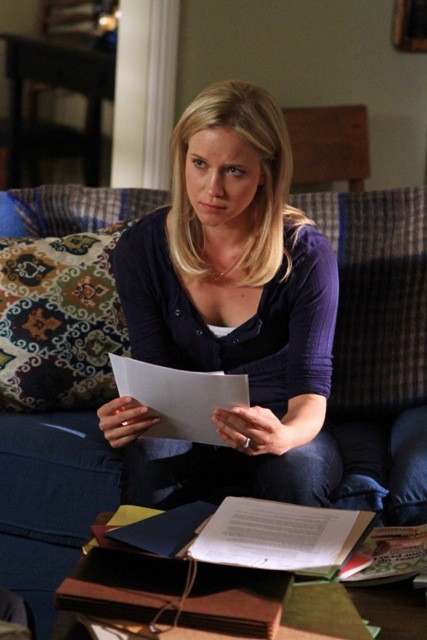 "For me, it's not even so much the mystery," she said of the show's appeal. "It's so different. It brings so many elements and personalities together. Through the same situation you see how everyone reacts."
When it comes to her character, "Christine has been thorugh a lot of hardship and she's kind of been strung along, and it just keeps progressing, but in a way where you finally get to see her smile. Now she's teaming up with Kylie [Sinclair, played by Autumn Reeser]," she explained. "The journey of Christine is seeing how far she goes with everything. There's some monumental moments that will happen."
For Jessy, playing Christine means portraying "a constant state of distress. Acting always in that mode of yearning and fear and desire and acceptance," she said, adding that having to consistently be in that mindset keeps her not that far removed from what Christine herself is going through. "I think it kind of goes with the character," she explained. "I think with Christine it's the same. As you're going along, you almost start to lose the image of what it is you're fighting for. You start to almost lose what your husband feels like. You almost go into autopilot. I think that plays in different ways."
​Last Resort​ would be any actor's dream job, with its excellent cast including Andre Braugher, Robert Patrick, Daisy Betts and guest stars like Bruce Davison and Jay Karnes, but playing Christine means that Jessy is as removed from the group as her character is from her husband. "My experience with Last Resort is very different from most of the cast. While they are next to a mountain, I'm always within the four walls of my home," she explained, adding that rather than merely focus on her part of the story, she relies on the scripts to elucidate characters and relationships for her. "I need to know what happens with everyone else, because that's how I learn about my husband. That's how I learn about the people that my character would naturally know."
"I mainly only act with Jay [Hernandez], Autumn and every now and then, Scott [Speedman]. I do get to see Andre and Robert and all of them walking around. I'm always inspired by them and I love their storylines," she continued. Of Patrick in particular, she added: "I haven't had the opportunity to act with him [but] he is such a cool guy. He is just so enjoyable to be around. He's a really fun presence and very talented and very hardworking."
What would she do if she could break that wall and get Christine involved in the rest of the action? Jessy doesn't believe that Christine would be a shrinking violet - far from it, in fact. "I think I would get on a boat, take my handgun that Sam gave me, steer that boat to the island and just walk on," she decided. "I think I'd become a right hand to Marcus."
While she's waiting for that opportunity, the hardworking actress is busy with other projects both on and off screen. "I'm also currently involved in Falling Skies," she said, referring to her recurring role in the TNT sci-fi drama as Karen Nagler. She also recently appeared on ABC's ​Once Upon a Time​.

Off camera, she's involved with a charitable organization called ​Corazon de Vida​. "It's an organization that sponsors orphanages in Tijuana, Mexico," she explained. "It's an organization that's changed my life in the sense of being able to connect with the kids, and be able to help out people through education, and give them tools to grow - not just give hope but support the development of kids and families. It's a project that's very close to my heart." For more information on Corazon de Vida, you can ​visit their official website​.
That giving nature is just one of the qualities that makes Jessy a great fit for the character of Christine - both of them care deeply about people other than themselves, and both of them are much tougher than they appear. Though she might not be part of the main storyline on ​Last Resort​, Jessy Schram has made Christine very much a significant player in the big picture.
You can keep up with Jessy on Twitter (@jschramer). You can also read my interview with Last Resort star Andre Braugher. Last Resort continues tonight at 8 PM ET/PT.
For more from Brittany Frederick, visit Digital Airwaves and follow me on Twitter (@tvbrittanyf).
(c)2012 Brittany Frederick/Digital Airwaves. Appears at Starpulse with permission. All rights reserved. No reproduction permitted.