Lars Ulrich Pens Tribute To Hero Lou Reed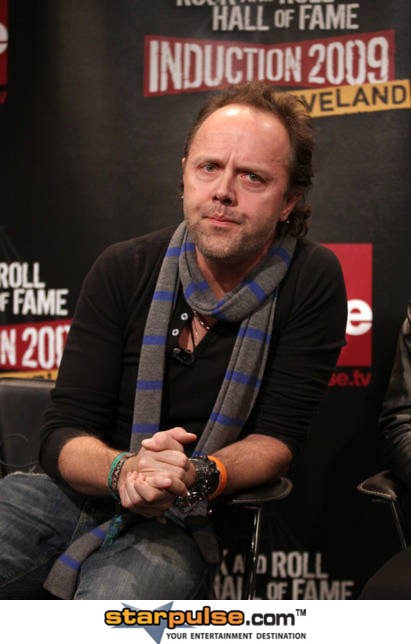 Metallica drummer Lars Ulrich has penned a tribute to late Velvet Underground singer Lou Reed in this week's issue of Entertainment Weekly.

Ulrich worked with Reed on 2011 album "Lulu," a collaboration between the rock legend and the heavy metal legends, and counts the late singer as one of his biggest influences.

"I first met Lou in Copenhagen about ten years ago," Ulrich writes. "He was in Copenhagen at an amusement park called Tivoli, and I was there with my kids and my cousin or something like that, and we were literally like, 'Oh, hey look, there's Lou Reed.' So I went over and introduced myself, or he came over and said hello to me, I can't remember... and we had a five minute conversation, and I think one of us had a hot dog in his hand.

"(Then), in 2009, the Rock and Roll Hall of Fame asked us to host a segment for the 25th anniversary shows at Madison Square Garden (in New York). So we were hosting a segment, and one of the people we wanted to collaborate with was Lou. We just felt his energy and his attitudes and body of work and way of doing things would compliment what we were doing. So we reached out and he was in.

"A day or two before the festivities, we were in a rehearsal room somewhere in midtown and he walked in and didn't say a whole lot. He turned on his guitar and started complaining about everybody being too loud, and this was wrong, and that was wrong, and it was like, 'Ah! His reputation proceeds (sic) him!' Like, they didn't send a doppelganger - it really was him. He just cursed and complained and was annoyed for the next hour.

"We started fiddling around a little bit, and at some point we just had a conversation that was like, 'Hang on, let's just talk'. So we talked, and I was like, 'Listen, let's find a way to make this work'. And then somehow he thawed, and for the rest of the day it was beautiful..."

Ulrich says that Reed's music with the Velvet Underground inspired him in the early 80s as he and his father would sit around and listen to their records. He also says that all the bands who go against the grain of the business owe it to Reed.

"I think every musician who marches to his own tune and is carving out his own thing and not just sucking up to the business owes something to Lou Reed. He's the Godfather of that. He's the Adam. He's Ground Zero. He's the Big Bang of people who do it their own way. So all of us who like to think somewhat out of the box, we all owe something to him."

Lou Reed died last Sunday at the age of 71.

Check out Lars' full article at EW.com.