Lars Ulrich: 'I Didn't Ask Hulk Hogan To Be A Member Of Metallica'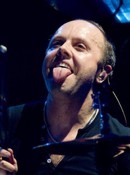 Metallica drummer Lars Ulrich has no recollection of asking the wrestling icon Hulk Hogan to join the band, dismissing remarks the fighter made in January.

Hogan told The Sun newspaper that Ulrich had once asked him to play bass for the rockers, but claimed the idea "didn't work out."

However, Ulrich insists he can't remember making the offer to the ring legend, telling shock jock Howard Stern, "I'm blessed or cursed, depending on how you look at it, with having more or less a photographic memory for pretty much anything that I've been a part of (and) when that one (story) showed up... I was scratching my head.

"I don't know Hulk Hogan, I don't know enough about him... I'm not a huge wrestling (fan)."

Nevertheless, Ulrich admits he may have known Hogan by another name: "(Maybe) he went by, like, his Christian name or something, and I don't know if anybody knows what his Christian name was - Dave Smith or something... but I certainly have no recollection of doing anything with Hulk Hogan."
Hogan's real name is Terry Bollea.