Larry 'The Soup Nazi' Thomas Outraged By Gun Campaign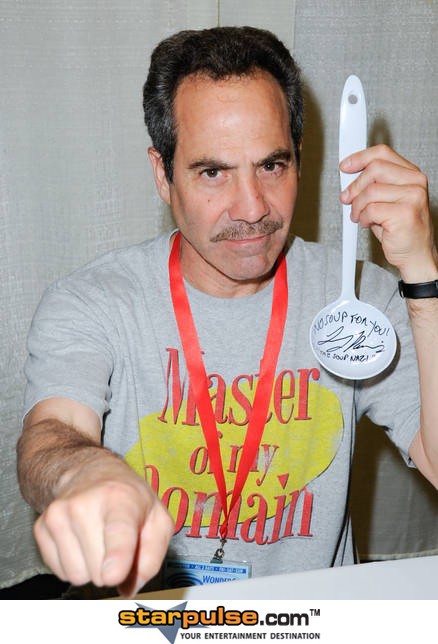 Seinfeld star Larry Thomas has hit out at the owners of a gun company for using his image on a T-shirt and Facebook.com campaign against New York's gun laws without his permission.

The actor, whose Seinfeld character The Soup Nazi coined the catchphrase 'No Soup For You', was shocked to see his photo, alongside a tag line 'No Serbu For You', on promotional products for Serbu Firearms' campaign.

The company, famous for producing semi-automatic weapons, is petitioning against the 2013 NY Secure Ammunition and Firearms Enforcement Act (NY SAFE Act) which bans the sale of assault rifles in New York.

Thomas was outraged by the use of his image to support the campaign, especially as he is an advocate of gun control, and he sent a letter of complaint to bosses at Facebook, Serbu and the T-shirt manufacturer.

He tells New York Post gossip column Page Six, "I own the rights to my image as the Soup Nazi. Serbu did not ask my permission, and Facebook won't take the image down. Not only did they do this without my authorization, but also I am an advocate of gun control.

"I have seen my face on T-shirts, random objects on eBay in the past, but politically this is the most offensive thing I have seen involving me as the Soup Nazi."

Mark Serbu, founder of Serbu Firearms, which is based in Tampa, Florida, tells the publication,
"Larry Thomas doesn't want his face on our shirt... He's an actor, he doesn't want to be involved with something as hot-button as guns... We don't want to get into a lawsuit; we'll change the shirts."

The NY SAFE Act legislation was passed in January this year in response to the Sandy Hook school massacre in December, when 20 young children and six adults were gunned down in Newtown, Connecticut.