Larry Hagman: 'JR Hasn't Changed Any, I'm Very Happy With That'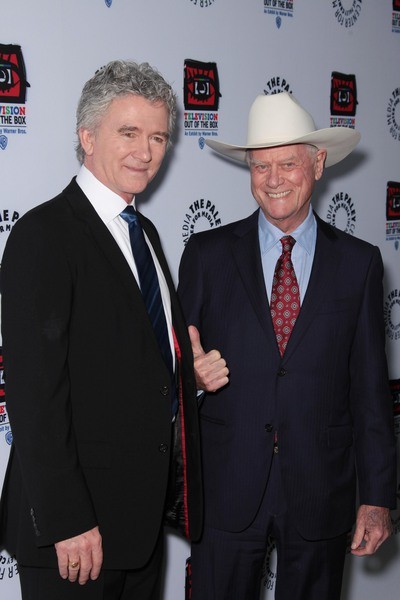 Dallas was a phenomenon in the '80s with the sexy, scandalous stories of the oil drilling Ewing family. Like anything that was once popular, they're bringing it back. Only instead of remaking Dallas, TNT has brought back the original cast for some drama with a new generation of actors playing the Ewing kids.
Larry Hagman returns as the ultimate bad guy JR Ewing. It's been 21 years since Dallas went off the air, but he's still the same old JR "Hell, I know the character," Hagman said. "He hasn't changed any. I'm very happy with that. They're writing in that direction, too."
Linda Gray is back as Sue Ellen Ewing, JR's ex-wife and the mother of their son John Ross (Josh Henderson). She is not quite the same old Sue Ellen. "It was with whole new Sue Ellen because she'd been gone for 20 years," Gray said. "She had taken John Ross with her to London with Ian McShane, smart. So, I had to do a lot of homework for Sue Ellen. I had to really find out where would she be?  Who would she be with?  What are her values now?  Why did she change?  Is it solid change, or is it just surface change?  Where would she be and what would she be doing with her new life?"
A feminine touch is one big difference in the new Dallas. The modern version was created by Cynthia Cidre. "When I looked at the first script, there was a woman's name on the cover, Cynthia Cidre, who was our writer/executive producer," Gray said. "For me to see a woman's name on a script, unlike the original show which was all men, was very, very intriguing, so I wanted to meet her one-on-one."
Patrick Duffy also returns as JR's brother Bobby Ewing. That was what convinced Hagman to come back. "They called and approached me about it a year ago and I said, 'Well, I'm not sure.'" Hagman said. "And then, they said, 'Well, Patrick Duffy and Linda Gray are going to be on it,' and I said, 'Oh, well, okay.' Then, Linda called me up and said, 'You're gonna do it,' and I said, 'Okay.' They said, 'Don't you want to read a script?' and I said, 'Are you all signed up? Yeah, okay, I don't need to read a script.'"
The scripts are juicy though and Dallas will entice new fans, and keep the old ones happy, Gray promises. "I think we have a very deep following globally and I feel that those great followers, that we're very proud that we have, will follow it and be so seamlessly engulfed with the new cast that it will be as if nothing had happened.  It won't be as if 20 years has passed."
Dallas premieres June 13 on TNT.