Larry David's Character On 'Curb' Is Normal Compared To 'Whatever Works'

Woody Allen
decided
Larry David
should play his latest neurotic intellectual character in
Whatever Works
. Boris Yellnikoff is a Nobel Prize nominee who knows so much, he can only complain about life. Sound familiar?
"Let's see, the character on
Curb
[Your Enthusiasm] is normal I think compared to this guy," David said. "The character on Curb actually wants relationships and sex and things like that. I don't know, he seems very normal compared to this guy. This guy is way out [there]. This guy wears shorts. Never would the character on Curb were shorts or would the person talking to you right now wear shorts. So I think that's a very disturbing thing right there."
When pressed, however, it turns out Allen did not insist on the shorts either. "It was actually my idea."
Memorizing lines was a problem for David. Even though he finished the film on script, he did not improve any memory skills. "I tried to use some of the tools that I had learned. I tried to memorize that Gettysburg Address the other day, because it's beautiful, but I had a rough time with that."
Still, David hasn't written off an acting career. "Well, I'd definitely do it with Woody Allen again, would I do it with somebody else again? Yeah, if I liked it."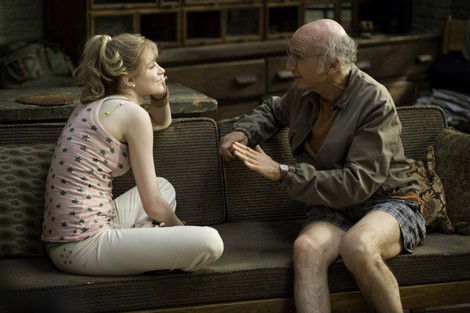 Catch Larry David's Hollywood debut when Whatever Works opens Friday.
Story/Interview by
Fred Topel
Starpulse contributing writer
(Starpulse in Hollywood)
: Every week, Hollywood's biggest stars are meeting in the hot spots and Starpulse is there.