Larry David Trapped Inside Parking Garage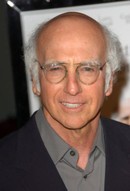 Larry David had a real life Curb Your Enthusiasm moment when the hapless actor was left trapped inside a garage.

The actor, who plays a constantly exasperated version of himself in the comedy series, attempted to leave a parking lot in Los Angeles on Sunday but failed.

Footage obtained by TMZ.com shows the 64-year-old funnyman struggling to open the parking gate before shouting to an assistant via the intercom, "I can't do it, I can't do this. I've put it in and paid $5."

David apologized to other drivers for the delay, but the flustered funnyman managed to eventually make his exit after asking another motorist to show him how to insert his parking ticket correctly.