'Land Of The Lost' Comes To Blu-ray & DVD October 13

Comedic favorite
Will Ferrell
meets the unfettered imaginations of Sid and Marty Krofft in the hilarious action comedy
Land of the Lost
, coming to Blu-ray Hi-Def and DVD on October 13, from Universal Studios Home Entertainment. Inspired by the Krofft-created 1970s television classic of the same name, "Land of the Lost" is available on a Blu-ray Hi-Def and single-disc DVD. Both include enough uproarious deleted scenes and behind-the-action bonus features to keep fans laughing across the entire space-time continuum.
The Blu-ray Hi-Def edition of "Land of the Lost" includes more than two hours of exclusive bonus content presented with perfect picture and the purest digital sound available. "Land of the Lost" on Blu-Ray Hi-Def also features Universal's acclaimed BD-Live Center, which allows fans access to even more content!
Will Ferrell brings his unparalleled brand of outrageous humor to a strange new world in "Land of the Lost", with
Danny McBride
,
Anna Friel
and
Jorma Taccone
joining him on an outrageously funny adventure that crosses time, space - and species!
Ferrell stars as has-been scientist Dr. Rick Marshall, who gets more than he bargained for when his expedition takes a wrong turn into the "Land of the Lost". Now, Marshall, with his crack-smart research assistant Holly (Friel) and a redneck survivalist named Will (McBride), have no weapons, few skills and questionable smarts to survive in an alternate universe full of marauding dinosaurs and fantastic creatures and laugh-out-loud comedy!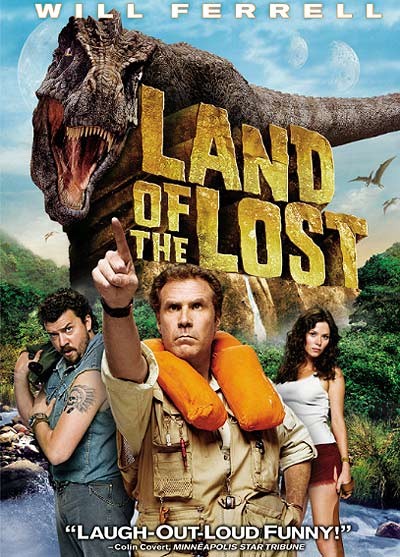 Image © Universal Studios Home Entertainment
Exclusive To Blu-ray Hi-Def With More Outrageous Comedy From Will Ferrell And Danny Mcbride:
-12 more minutes of deleted scenes with Commentary by Director Brad Silberling
-Dr. Marshall's Food Diaries with Commentary by Director Brad Silberling
-This is Not a Routine Expedition: Making Land of the Lost
-Brad, Sid and Marty: A Conversation with the Kroffts - A retrospective look at the extraordinary worlds created by the legendary Sid and Marty, peppered with interviews and show clips.
-BD-Live: Access the BD-Live Center through your Internet-connected player to get even more content, watch the latest trailers, and more!
Bonus Features:
Both DVD and Blu-ray Hi-Def editions of Land of the Lost include:
-Deleted Scenes: With Commentary by director Brad Silberling
-A Day in the Life of a Big-Time Movie Star - Viewers can live the glamorous life vicariously as Danny McBride offers a moment-by-moment look at a typical day in his life.
-Devil's Canyon Gift Shop Commercial and Tour
-Feature Commentary With Director Brad Silberling
Universal Studios Home Entertainment is a unit of Universal Pictures, a division of Universal Studios (www.universalstudios.com). Universal Studios is a part of NBC Universal, one of the world's leading media and entertainment companies in the development, production, and marketing of entertainment, news, and information to a global audience. Formed in May 2004 through the combining of NBC and Vivendi Universal Entertainment, NBC Universal owns and operates a valuable portfolio of news and entertainment networks, a premier motion picture company, significant television production operations, a leading television stations group, and world-renowned theme parks. NBC Universal is 80%-owned by General Electric, with 20% owned by Vivendi.