Lance Bass Producing Reality TV Show 'Famous Yard Sale'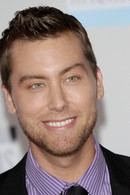 Former 'N Sync star Lance Bass is set to help his celebrity pals clear out their closets on his new TV show Famous Yard Sale.

A host of famous faces will get rid of their old clothes, shoes, art and furniture, and auction their cast-offs for charity in the upcoming TV series.

Producer Liz Gateley says, "You get a little bit of (MTV celebrity home show) Cribs, a little bit of the Barbara Walters aspect where the celebrity is walking down memory lane, and a little bit of Pawn Stars."

Bass came up with the concept for the reality show after he found himself with a warehouse full of memorabilia from his days in the boy band.