Lana Del Rey's 'Born To Die' Debuts At #2 On The U.S. Album Chart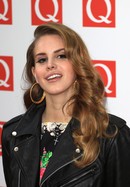 Adele has robbed Lana Del Rey of a trans-Atlantic number one double after landing a 19th week atop the U.S. album chart.

The "Someone Like You" hitmaker, who is expected to dominate the Grammy Awards on Sunday, enjoyed a sales spike as fans anticipate her return to live performance after throat surgery to stay at number one.

Her hit album "21" sold 45,000 copies more than Del Rey's "Born to Die," which debuts at two on the new countdown - 36,000 ahead of Leonard Cohen's "Old Ideas," which comes in third.

Del Rey's album and Cohen's new release debuted at the top of the British charts on Sunday.

Meanwhile, the 2012 Grammy Nominees album stays put at number four and the "Kidz Bop 21" compilation jumps up a spot to five.

On the singles chart, Kelly Clarkson has denied Adele another U.S. chart triumph by taking over at number one with "Stronger (What Doesn't Kill You)." Adele's "Set Fire to the Rain" falls a spot to two on the new Hot 100 countdown.

Flo Rida's "Good Feeling" rounds out the new top three.