Lana Del Rey To Duet With Tyler, The Creator?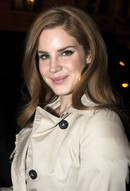 Lana Del Rey has sparked rumors of a collaboration with rapper Tyler, The Creator after the pair struck up a bizarre friendship on Twitter.com.

The odd couple recently began sending messages to each other on the social networking site, with the Odd Future star writing, "Just found out Lana Del Ray (sic) wanted to work with me. Had no idea. If your (sic) reading this I'm down, I have pretty instrumentals."

The Video Games hit-maker replied by telling him, "You're Number 1."

It wouldn't be the first time Del Rey has teamed up with a hip-hop star - she sings on rapper A$AP Rocky's upcoming track Ridin'.