Lana Del Rey Redeems Her Bad 'Saturday Night Live' Performance On Letterman, Then Gets Roasted On 'SNL' (Watch Videos)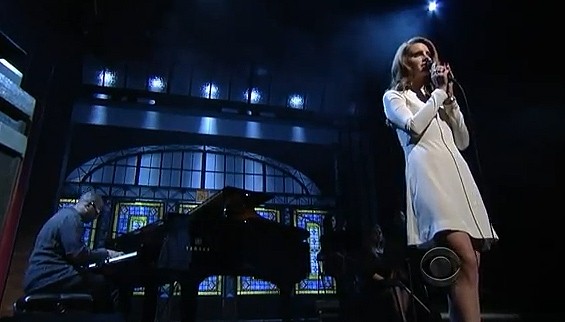 Up-and-coming singer Lana Del Rey has been receiving lots of negative press lately after her performance on Saturday Night Live a few weeks ago; and reviews of her debut album, "Born To Die," have been less than spectacular. (There've been some good ones too).

The singer changed all that last Thursday night with her appearance on Late Show With David Letterman with a haunting performance of her hit song "Video Games."
But then again, SNL picked on Lana (or did they defend her?) in a 'Weekend Update' skit last night, with Kristen Wiig mimicking the singer and explaining her performance.

In the skit she explains how she didn't hold up her end of the bargain when taking the long-running variety show's stage.
"...these critics are absolutely right, the music stage on Saturday Night Live is hallowed ground, and I failed to reach the high bar set by past guests, like Bubba Sparxxx, The Baha Men and Shaggy."

The 25-year-old singer rose to fame on the internet after the single garnered millions of views after it debuted last August (it's got over 25 million hits now), making her virtually an overnight sensation.

Check out her performance from Letterman and the latest SNL skit below...