Lake Bell Wants To Run A Marathon With Long Nails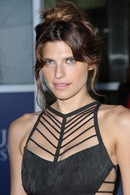 Actress Lake Bell is considering hypnotism as she battles to stop biting her nails.

The It's Complicated and What Happens in Vegas... star admits she has tried everything in an effort to halt her bad habit - but nothing has worked so far.

Even nasty fluids that leave a bad taste in the mouth haven't stopped her from nibbling - and now she's desperate.

Bell says, "Hypnotism is something that I'm campaigning hard to do... I like the idea of doing a two-for-(one) and having them tell me that I also love to run, because I kinda suck at running. I like the idea of maybe... by the end of the hypnotism session I can run a marathon with long nails. That's the goal."