Lady Gaga Writes A Song For Cher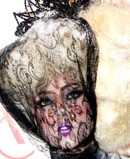 Cher is "beyond grateful" to Lady Gaga - the Poker Face hit-maker has penned a song for the pop superstar's next album.

The Believe hit-maker has been in the recording studio this week and she's thrilled her fans with news of one of her tracks.
 
Cher reveals Gaga wrote a song called The Greatest Thing with producer RedOne for the album, and now she's dreaming of a duet with the eccentric singer.

In a series of posts on her Twitter.com page, Cher writes, "I have something (to) tell u that's so great I don't know exactly how 2 say it! Been keeping it secret 4 (a) long time... Just walked in from studio... Finished 1st track on new cd &........'Gaga' 'You Are The Greatest Thing To Me '
 
"It's not a duet! Who knows? One can wish! It's one of her songs & she & Redone gave it to me 4 my cd! I would love (a) duet with GaGa, but she gave me (a) GREAT song & I'm beyond grateful!!!! It's called 'The Greatest Thing'."