Lady Gaga Simulates Sex With R. Kelly During 'SNL' Performance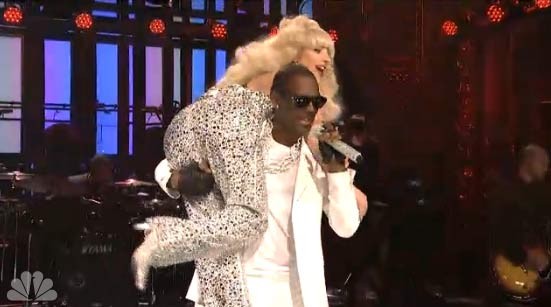 What else can Lady Gaga do to shock an audience? Showing no signs of running out of ideas, Lady Gaga stunned live TV viewers on Saturday night by simulating sex with R. Kelly.
While guest hosting Saturday Night Live, the pop star performed Do What U Want with the soul singer and during their performance she pretended to give Kelly oral sex. Our guess is she needs to keep up with Miley Cyrus.
Gaga also poked fun at the controversy linked to her alleged song similarities to Madonna by performing Born This Way as the Material Girl's Express Yourself in a skit about an album of awful cover versions.
Madonna fueled the drama onstage during her MDNA tour last year when she sang a snippet of Born This Way during performances of Express Yourself.
Lady Gaga also took a trip to the future in another sketch, pretending to be herself in the year 2063. As a washed-up has-been, the elderly pop star attempted to convince a maintenance man in her apartment building she was once a big name.