Lady Gaga Reveals The Title Of Her Next Album With New Tattoo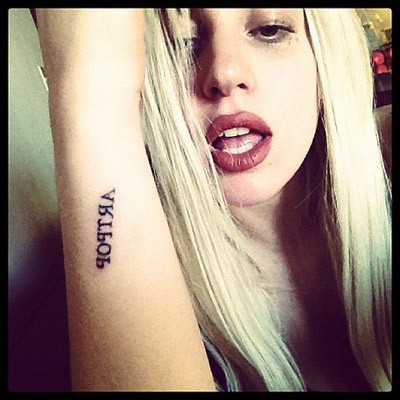 Lady Gaga shared the title of her upcoming album on Friday via her Twitter page with an image of her new tattoo.

The fresh ink reads "ARTPOP," which is seen backwards in the mirror image that Mother Monster tweeted with the message, "new ink new album."

The title, which she has asked the media to correctly spell out by using all capital letters, is an acronym for "Artistic Revolution Through the Potential Of Pop."

"[M]ake sure when writing about my new album/project ARTPOP that you CAPITALIZE the title, *its all in the details* good morning twitter!" she wrote.

The pop singer debuted her latest track, "Princess Die," during a concert in Australia in June; and she had originally announced that she would be sharing the new title in September. There's no date yet for "ARTPOP's" release, but it's expected late this year or in early 2013.

Gaga also announced new tour dates for the Latin American leg of her tour, which kicks off in Mexico City October 26 (get the dates here).

Filmmaker Robert Rodriguez also recently announced that Lady Gaga will be making her acting debut in his upcoming Machete sequel, Machete Kills.