Lady Gaga Releases Teaser Of New Single 'Venus' As She Arrives In London Barefoot And See-Through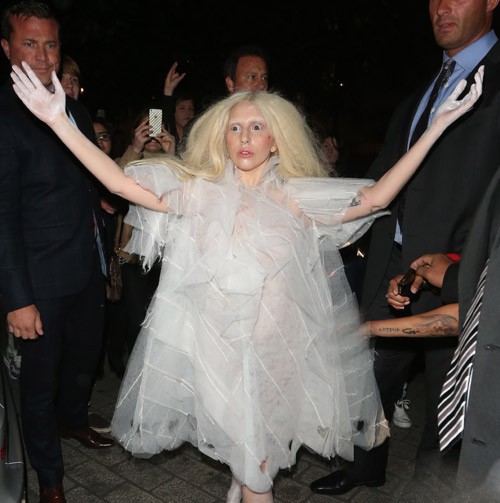 Lady Gaga -- or is that the ghost of Lady Gaga -- dropped a quick teaser of her upcoming single "Venus" on YouTube on Friday. 
The singer is currently on a promotional tour of Europe in support of her forthcoming album "ARTPOP" (out Nov. 11), showing off a variety of new-and-improved strange costumes.
Gaga made good on her promise to debut a new song "in ervery territory" she visits in the next three weeks, tweeting a link to the new clip.

"HERE is a snippet OF 'VENUS' produced by Lady Gaga," she tweeted. "'Venus' is a sequence of multiple covers shot by 'Alejandro' and 'Fame' director @SKstudly Steven Klein."
The 27-year-old arrived in London on Friday and was spotted outside her hotel greeting fans in a white see-through dress. Instead of opting for her usual platform shoes, Gaga went barefoot, her feet appearing to be spray-painted white. Check it out below.

Wednesday night, Lady Gaga debuted new track "Gypsy" at the famed Berghain Club in Berlin, Germany. She showed up for the event in lingerie and wearing a fake mustache. She also wore lots of white eye-makeup to give her an almost unhuman appearance.