Lady Gaga Poses For Bikini Photos In Rio; Donates $1 Million To Hurricane Sandy Relief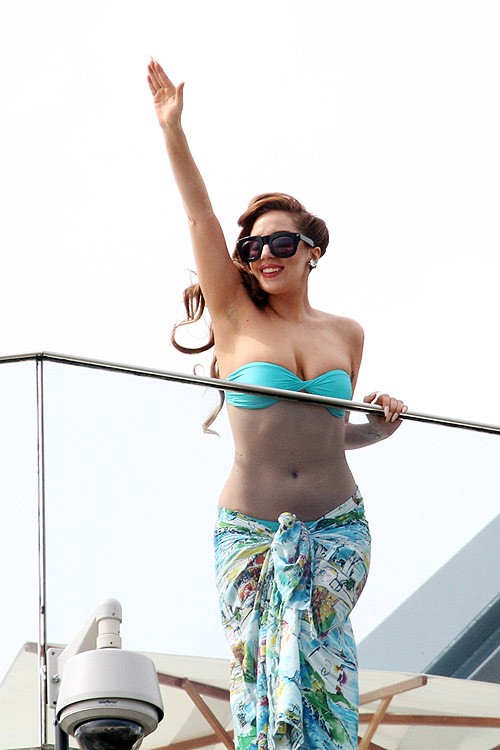 Lady Gaga and her pal, makeup artist Tara Savelo, hammed it up on their hotel balcony in Rio de Janeiro Wednesday, waving to fans and posing for lots of pictures in their bikinis.

The "Born This Way" singer, who was vacationing in Puerto Rico last week when Hurricane Sandy battered the northeast, has been keeping away from her native New York and the horrible weather the people there have been experiencing (including a Nor'easter that hit the region today, bringing snow, rain and more flooding in its wake). But she's offered some relief to residents of the area by donating $1 million to the Red Cross to help workers and the people hit the hardest clean up and get back to some normalcy.

"Today I pledge 1 million dollars to New York & The American Red Cross for Hurricane Sandy Relief," she said via her website, LittleMonsters.com. "If it wasn't for NYC: the Lower Eastside, Harlem, the Bronx and Brooklyn, I would not be the woman or artist that I am today.

"New York is relentless ambition, a drive to succeed, a place where there is a natural pursuit of diversity through compassion. Please accept this gift on behalf of myself, my parents Joe and Cynthia, and my sister Natali; with our deepest gratitude New York for raising us. Thank you for helping me build my spirit. I will now help you rebuild yours."

On a lighter note, Gaga's boyfriend, Taylor Kinney, recently shared that he's a huge fan of country star Tim McGraw's cologne.

"A friend got it for me a couple of years ago and it stuck. I have all of them. I have the Silver, there's a Faith Hill Soul2Soul thing [women's fragrance]," he says. "They have it all locked."

Check out more pics of Gaga and Tara after the jump...