Lady Gaga Plans To Release 10 More Albums Before Having Kids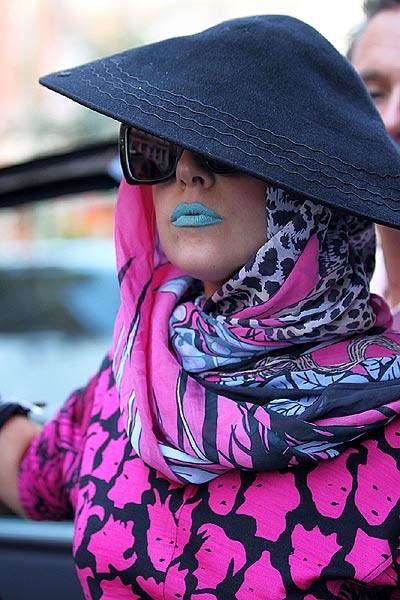 Lady Gaga wore an Asian inspired pink and black outfit featuring long black leather gloves, an animal print scarf and some teal lipstick for contrast. The faces on her dress even feature crazy hairdos that appear to mimic the star's own style. She rounded out the ensemble with some fucsia heels that seem pretty tame compared to what she's usually wearing on her feet.

Gaga recently appeared on England's The Jonathan Ross Show and revealed that she does plan on starting a family some day, but not anytime soon. In fact, her millions of fans, aka 'Little Monsters,' will be thrilled to learn that she's planning to release 10 more albums before taking any big steps in her personal life.

"I'm a maternal person but I'm not feeling the urge to be pregnant. Some day I will but not now," she says. "Oh my gosh, the fans would kill me. I'm just not ready. I really want to make at least 10 more albums before I do something like that."

When asked if there's anyone special in her life that might be suited to help her out in the future, she cryptically replied, "You know I don't talk about my love life but I'm very happy," leading to speculation that she is dating someone. Perhaps her on-again/off-again relationship with Luc Carl is on again - or could there be someone else? We'll have to wait and see.